Current Protocols in Immunology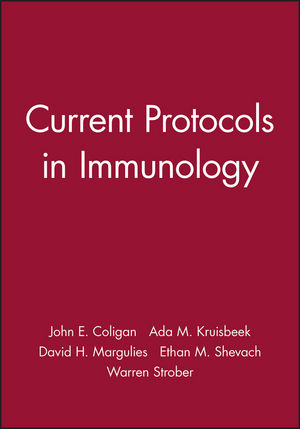 Current Protocols in Immunology
ISBN: 978-0-471-52276-8 January 1991 920 Pages
Description
Current Protocols in Immunology is a three-volume looseleaf manual that provides comprehensive coverage of immunological methods from classic to the most cutting edge, including antibody detection and preparation, assays for functional activities of mouse and human cells involved in immune responses, assays for cytokines and their receptors, isolation and analysis of proteins and peptides, biochemistry of cell activation, molecular immunology, and animal models of autoimmune and inflammatory diseases. Carefully edited, step-by-step protocols replete with material lists, expert commentaries, and safety and troubleshooting tips ensure that you can duplicate the experimental results in your own laboratory. Bimonthly updates, which are filed into the looseleaf, keep the set current with the latest developments in immunology methods. The initial purchase includes one year of updates and then subscribers may renew their annual subscriptions. Current Protocols publishes a family of laboratory manuals for bioscientists, including Molecular Biology, Human Genetics, Protein Science, Cytometry, Cell Biology, Neuroscience, Pharmacology, and Toxicology.
Cannot be combined with any other offers.
Original Price:$1,764.00
Purchased together:$1,323.00
save $441.00
Cannot be combined with any other offers.
Original Price:$1,935.00
Purchased together:$1,451.25
save $483.75
Table of contents
Care and Handling of Laboratory Animals.

Antibody Detection and Preparation.

In Vitro Assays for Mouse Lymphocyte Function.

In Vivo Assays for Mouse T Cell Function.

Immunofluorescence and Cell Sorting.

Cytokines and Their Cellular Receptors.

Immunologic Studies in Humans.

Isolation and Analysis of Proteins.

Peptides .

Molecular Biology.

Biochemistry of Cell Activation.

Detection and Analysis of HIV.

Complement.

Macrophages and Monocytes.

Animal Models for Autoimmune and Inflammatory Disease.

Antigen Processing and Presentation.

Engineering Immune Molecules and Receptors.

Ligand-Receptor Interactions in the Immune System