Current Protocols in Nucleic Acid Chemistry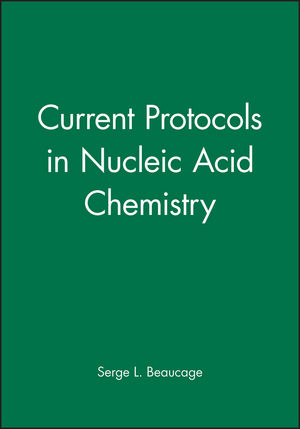 Current Protocols in Nucleic Acid Chemistry
ISBN: 978-0-471-24662-6
Mar 2000
Description
Good methods must be reliable, well-tested, and honed to minimize the time and expense required to achieve the desired results. CPNC provides a continuously growing and evolving set of protocols that allows researchers to benefit from the experience of other researchers around the world. The core manual provides a comprehensive set of protocols that have been compiled, revised, and streamlined over the last 6 years. Quarterly updates provide new protocols in emerging areas of research as well as continued advances and new applications for fundamental methods. The book is designed to grow and change with the field of nucleic acid chemistry.

Fundamental nucleoside chemistry methods include sugar-base condensation, phosphorylation, and nucleoside protection. Methods for oligonucleotide synthesis include H-phosphonate and phosphoramidite approaches, solid-phase and solution-phase synthesis, large-scale synthesis, synthesis for modified and unmodified oligonucleotides, conjugation of oligonucleotides, synthesis without base protection, and synthesis on microarrays. More specialized synthetic methods include synthesis of biologically active nucleosides and prodrugs. Purification and characterization methods are detailed. Advanced methods include biophysical analysis, combinatorial methods, and nanotechnology.

Each protocol includes rationale for choosing appropriate methods, step-by-step procedures, complete recipes, anticipated results, characterization data, and troubleshooting, as well as background and recommended reading. The level of procedural detail is far beyond that found in the research literature, and tips and comments from authors are geared towards ensuring reliable duplication in the laboratory.