Current Protocols in Pharmacology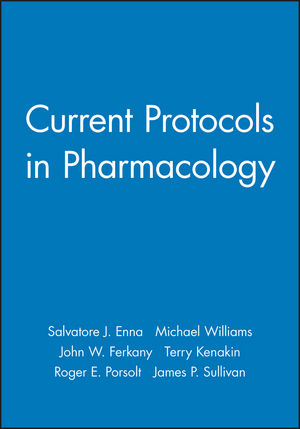 Current Protocols in Pharmacology
ISBN: 978-0-471-17197-3 June 1998 700 Pages
Description
Responding to the needs of researchers for an authoritative, updatable source of laboratory procedures, Current Protocols in Pharmacology (CPPH) contains a full gamut of molecular, cellular, physiological, and chemical techniques for the successful discovery and development of novel drugs and therapeutics. The one-volume looseleaf manual contains concisely written protocols that guide you step-by-step through the process of characterizing new compounds using receptor-binding assays (both in vitro and in isolated tissues), enzyme assays, signal transduction assays, and in animal models of disease. Clear guidelines on data analysis are provided along with representative data for each protocol illustrating how lead compounds can be quickly identified. Background information, material lists, safety guidelines, and troubleshooting tips are all provided to facilitate successful results. Quarterly updates, filed into the looseleaf, keep you and your laboratory current with the latest developments in this rapidly changing field. The initial purchase includes one year of updates and then subscribers may renew their annual subscriptions. Current Protocols publishes a family of laboratory manuals for bioscientists, including Molecular Biology, Immunology, Human Genetics, Protein Science, Cytometry, Cell Biology, Neuroscience, and Toxicology.
Table of contents
Receptor Binding.
Signal Transduction.
Enzyme Assays.
Isolated Tissues.
Animal Models of Disease.
Molecular Biology.
Pharmacokinetics.
Receptor/Enzyme Localization.
Chemical Diversity.
Safety Pharmacology/Toxicology.
Electrophysiological Techniques