Current of Music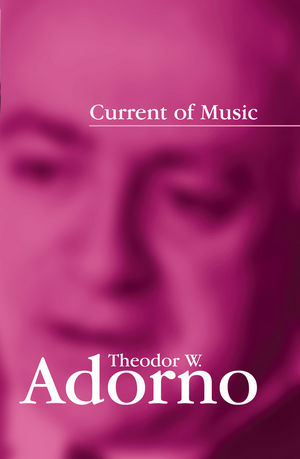 Current of Music
ISBN: 978-0-745-69463-4 October 2014 Polity 480 Pages
Download Product Flyer
Download Product Flyer
Download Product Flyer is to download PDF in new tab. This is a dummy description. Download Product Flyer is to download PDF in new tab. This is a dummy description. Download Product Flyer is to download PDF in new tab. This is a dummy description. Download Product Flyer is to download PDF in new tab. This is a dummy description.
Description
Fleeing the Nazis, Theodor W. Adorno lived in New York City as a refugee from 1938 until 1941. During these years, he was intensively involved in a study of how the recently developed techniques for the nation-wide transmission of music over radio were transforming the perception of music itself. This broad ranging radio research was conceived as nothing less than an investigation, partly empirical, of Walter Benjamin's speculative claims for the emancipatory potential of art in the age of its mechanical reproduction. The results of Adorno's project set him decisively at odds with Benjamin's theses and at the same time became the body of thinking that formed the basis for Adornos own aesthetics in his Philosophy of New Music.
Current of Music is the title that Adorno himself gave to this research project. For complex reasons, however, Adorno was not able to bring the several thousands of pages of this massive study, most of it written in English, to a final form prior to leaving New York for California, where he would immediately begin work with Max Horkheimer on the Dialectic of Enlightenment. Robert Hullot-Kentor, the distinguished Adorno scholar, reconstructed Adorno's project for the Adorno Archive in Germany and provides a lengthy and informative introduction to the fragmentary texts collected in this volume.

Current of Music will be widely discussed for the light it throws on the development of Adorno's thought, on his complex relationship with Walter Benjamin, but most of all for the important perspectives it provides on questions of popular culture, the music of industrial entertainment, the history of radio and the social dimensions of the reproduction of art.
Table of contents
Preface: Prolegomenon to a Reconstruction of Current of Music - Second Salvage.
Acknowledgments.
1 Radio Physiognomics.
2 A Social Critique of Radio Music.
3 The Radio Symphony: An Experiment in Theory.
4 Analytical Study of the NBC Appreciation Hour.
5 'What a Music Appreciation Hour Should Be. Plans for a music education program, Radio Broadcasts on WNYC and Drafts.
6 'On Popular Music' : Draft Material and Text.
7 Musical Analyses of Hit Songs.
Further material:.
A The Radio Voice.
B Memorandum on Lyrics in Popular Music.
C Experiment on: Preference for Material or Treatment of two Popular Songs.
D The Problem of Experimentation in Music Psychology.
E Note on Classification.
F On the Use of Elaborate Personal Interviews for the Princeton Radio Research Project.
G The Problem of a New Type of Human Being.
H Some Remarks on a Propaganda Publication of NBC.
I Theses about the Idea and Form of Collaboration of the Princeton Radio Research Project..
Discography.
Index of names
Reviews
'Scrupulously reconstructed by Robert Hullot-Kentor, Adorno's bold and ambitious attempt to write a critical physiognomy of radio music is both a document of its time and provocation to ours.'
Martin Jay, University of California, Berkeley
Features



A major new book in the Polity series of publications which make available Adorno's previously unpublished writings.



This volume comprises some of Adorno's most important writings on music and radio and deals with themes for which he is particularly well known, such as the critique of the culture industry.



The book includes a substantial introduction by Robert Hullot-Kentor, who is one of the leading Adorno scholars in the English-speaking world.