Curriculum Development in Higher Education: Faculty-Driven Processes and Practices: New Directions for Teaching and Learning, Number 112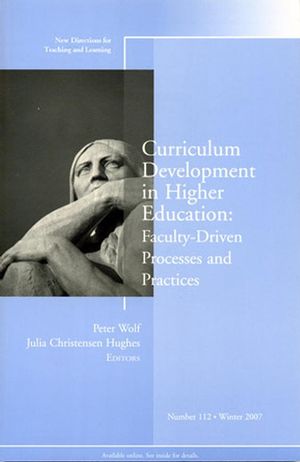 Curriculum Development in Higher Education: Faculty-Driven Processes and Practices: New Directions for Teaching and Learning, Number 112
ISBN: 978-0-470-27851-2
Jan 2008, Jossey-Bass
128 pages
Description
Collectively, the authors in this volume present the context and catalysts of higher education curriculum reform, advocate for the Scholarship of Curriculum Practice (SoCP), provide examples of curricular assessment and development initiatives at a variety of institutional levels, suggest that educational developers can provide much support to such processes, and argue that this work has profound implications for the faculty role. Anyone involved in curriculum assessment and development will find food for thought in each chapter.

Faculty within institutions of higher education are increasingly being asked to play leadership roles in curriculum assessment and reform initiatives. This change is being driven by quality concerns; burgeoning disciplinary knowledge; interest in a broader array of learning outcomes, including skills and values; and growing support for constructivists pedagogies and learning-centered, interdisciplinary curricula. It is essential that faculty be well prepared to take scholarly approach to this work. To that end, this issue presents the frameworks used and lessons learned by faculty, administrators, and educational developers in a variety of curriculum assessment and development processes.

This is the 112th volume of the Jossey-Bass quarterly report series New Directions for Teaching and Learning, which continues to offer a comprehensive range of ideas and techniques for improving college teaching based on the experience of seasoned instructors and on the latest findings of educational and psychological researchers.