Customer Service in Health Care: A Grassroots Approach to Creating a Culture of Service Excellence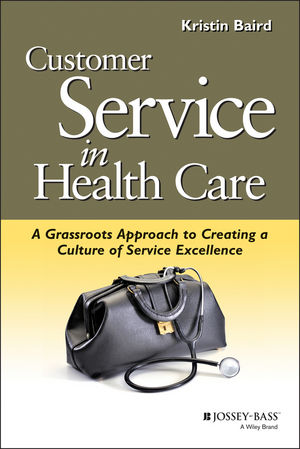 Customer Service in Health Care: A Grassroots Approach to Creating a Culture of Service Excellence
ISBN: 978-0-787-95251-8 July 2000 Jossey-Bass 176 Pages
Description
Research confirms that it is six times more costly to attract a new customer than it is to retain an existing one.
Creating a culture of service excellence requires planning, preparation, and persistence. Customer Service in Health Care is designed to provide readers with the fundamental information and skills to start or strengthen a customer service initiative within a health care organization. This book concentrates on action as opposed to theory. It offers a practical, step-by-step process for creating a culture shift toward customer service excellence at all levels of an organization, and presents the essentials to improving performance that will bring the individuals closer to the mission, values, and standards.
Chapters focus on:
Tools for establishing and measuring customer service team goals
Creating customer service standards unique to your organization
Tips on training sessions
Strategies for maintaining top-of-mind awareness of customer service among employees
Customer service techniques for physicians and nurses
An overview of customer service as an essential component of business development and marketing
List of Figures and Tables.
About the Author.
Preface.
Acknowledgements.
Why Customer Service.
Setting Your Course - Senior Leadership that Takes the Wheel.
Championing Buy-In and Ownership - You Can't Do It Alone.
Where Are You Now? - Establishing Your Baseline.
Creating Meaningful Standards to Live By.
The Training Sessions - Getting Everyone on the Same Page.
Keeping the Effort Alive.
Customer Service Pointers for Physicians.
A Message for Nurses.
Measuring Results.
Index.
"Cheerful, down-to-earth, and widely experienced, Baird has written a well-organized, readable book with a can-do message…" (
AORN Journal
, 6/1/2004, Vol 70, No. 6)
"Read this book for an action-oriented approach..." (The Healthcare Collaborator, August 2001)