Customer Winback: How to Recapture Lost Customers--And Keep Them Loyal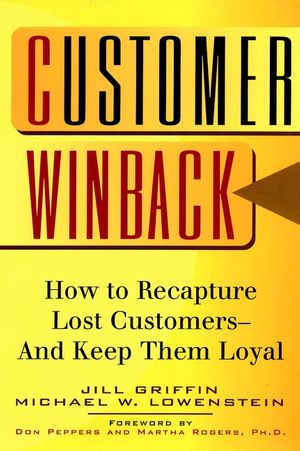 Customer Winback: How to Recapture Lost Customers--And Keep Them Loyal
ISBN: 978-0-787-94667-8
Mar 2001, Jossey-Bass
336 pages
Description
Most firms consider the lost customer a lost cause. But in this ground breaking book, Jill Griffin and Michael Lowenstein provide you with step-by-step solutions for winning back lost customers, saving customers on the brink of defection, and making your firm defection proof. Whether your business is small or large, product- or service-based, retail or wholesale, this book offers proven strategies for recognizing which lost customers have the highest win-back value and implementing a sure-fire plan to recover them. It includes the techniques of hundreds of innovative companies who are already working to recapture lost customers and keep them loyal. In today's hyper-competitive marketplace, no customer retention program can be entirely foolproof, but with this guide gives you today's best methods for winning back those customers you simply can't afford to let go.
CUSTOMER RECOVERY: WINNING BACK LOST CUSTOMERS.

Why Aggressive Customer Recovery is Critical to Your Success.

A Closer Look at Customer Loss.

Making New Customers Defection Proof.@Preventing Loss When the Honeymoon is Over.

Early Intervention for Rocky Relationships. Saving Customers On the Brink of Defection.

Recovering Lost Customers.

CUSTOMER PROCOVERY: KEEPING REACTIVATED CUSTOMERS AND MINIMIZING DEFECTIONS.

Practicing Procovery: Why Recovery is Not Enough.

Happy Employees Equal Loyal Customers.

Complaints: Your Number One Customer Procovery Weapon.

The Real Role of Service in Customer Recovery.

Making Your Company Defection Proof.
""Winning back lost customers is the marketing equivalent of finding hidden treasure. Griffin and Lowenstein provide an excellent treasure map."" (Dr. Leonard L. Berry, distinguished professor of marketing, Texas A&M University, and author of Discovering the Soul of Service)

""Customer WinBack deals with one of the most overlooked dimensions of managing customer loyalty-earning it back. I've personally seen the power a focused win-back effort can achieve, and business leaders would be well-advised to follow Griffin and Lowenstein's formulas to regain lost revenue."" (Jeanne Lombardo, general manager, Worldwide Satisfaction & Loyalty, Microsoft Corporation)

""Griffin and Lowenstein know that in order to win back lost customers you must know why they left. Customer WinBack provides sound examples that illustrate ways to recapture lost customers that can be applied to any business."" (Stephen P. Campbell, director of franchise marketing, Sprint)