Cyber Policy in China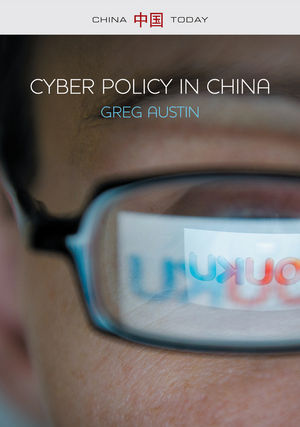 Cyber Policy in China
ISBN: 978-0-745-68588-5 October 2014 Polity 200 Pages
Download Product Flyer
Download Product Flyer
Download Product Flyer is to download PDF in new tab. This is a dummy description. Download Product Flyer is to download PDF in new tab. This is a dummy description. Download Product Flyer is to download PDF in new tab. This is a dummy description. Download Product Flyer is to download PDF in new tab. This is a dummy description.
Description
Few doubt that China wants to be a major economic and military power on the world stage. To achieve this ambitious goal, however, the PRC leadership knows that China must first become an advanced information-based society. But does China have what it takes to get there? Are its leaders prepared to make the tough choices required to secure China's cyber future? Or is there a fundamental mismatch between China's cyber ambitions and the policies pursued by the CCP until now?

This book offers the first comprehensive analysis of China's information society. It explores the key practical challenges facing Chinese politicians as they try to marry the development of modern information and communications technology with old ways of governing their people and conducting international relations. Fundamental realities of the information age, not least its globalizing character, are forcing the pace of technological change in China and are not fully compatible with the old PRC ethics of stability, national industrial strength and sovereignty. What happens to China in future decades will depend on the ethical choices its leaders are willing to make today. The stakes are high. But if China's ruling party does not adapt more aggressively to the defining realities of power and social organization in the information age, the 'China dream' looks unlikely to become a reality.
Table of contents
Preface
Acknowledgments
1. China's Cyber Ambition
2. Legacy Values
3. eDemocracy, iDictatorship
4. Innovative Information Society
5. Security in the Global Infosphere
6. The Road Ahead
Reviews
Greg Austin has produced a much needed, comprehensive examination of China's evolving approach to the increasingly important cyber world. Austin focuses on Chinese cyber policies and views in three critical areas: domestic politics, economics, and national security. He concludes that while China is well positioned to become a major advanced information society, it will fail to reap the benefits of such a development if it remains locked in its current "ethical dead end". This is an essential read for anyone interested in the impact of China's rise on a key global issue.
Michael D. Swaine, Carnegie Endowment for International Peace, Washington, DC
In this book, Greg Austin offers a convincing analysis of the dilemma China is facing: this country has ambitions to become an advanced information society, but while developing its own version of e-government, the Communist Party remains keen to monitor and control the internet tightly. In the Chinese cyberspace, security overrides information. Under such conditions can China continue to rise? Cyber Policy in China will convince you that the country may not unless it introduces dramatic political changes.
Jean-Pierre Cabestan, Hong Kong Baptist University
"A must read. This book takes us through a detailed and engaging journey into the realm of cyber policy in China."
LSE Review of Books
"Greg Austin's Cyber Policy in China provides an informed perspective on the experience of arguably the world's most empowered state in both harnessing the potential of, but also controlling, the hugely disruptive changes that cyberspace brings, providing an explanation through recent Chinese history and its current policy direction."STRIFE
"Greg Austin's well-written and informative book succeeds in providing a systematic account of cyber policy in China that should be relatively easy to understand even for people without much background knowledge about the country's internal politics, economy, and international relations."
National Communication Association
"Overall, the book offers an essential introduction to cyber policy-making in China, through which students and scholars in China studies can gain a deeper insight into the challenges and risks that the CCP is facing on both the domestic and international fronts. It is a welcome contribution to studies on China"
Political Studies Review