Cycles of Soils: Carbon, Nitrogen, Phosphorus, Sulfur, Micronutrients, 2nd Edition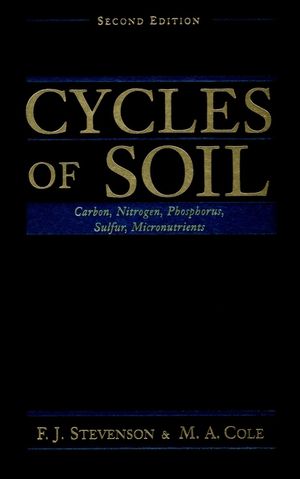 Cycles of Soils: Carbon, Nitrogen, Phosphorus, Sulfur, Micronutrients, 2nd Edition
ISBN: 978-0-471-32071-5
Apr 1999
448 pages
Description
An updated edition of the classic work on the inorganic chemistry of soils.
* With its companion volume, Humus Chemistry, forms a complete, advanced-level treatment of both organic and inorganic aspects of soil chemistry.
* Revised to keep pace with the latest developments in the field.
* Provides more in-depth treatment of all topics.
The Carbon Cycle.

Soil Carbon Budgets and Role of Organic Matter in Soil Fertility.

Soil Organic Matter Quality and Characterization.

Environmental Aspects of the Soil Carbon Cycle.

The Nitrogen Cycle in Soil: Global and Ecological Aspects.

The Internal Cycle of Nitrogen in Soil.

Dynamics of Soil N Transformations as Revealed by ¯15N Tracer Studies.

Impact of Nitrogen on Health and the Environment.

The Phosphorus Cycle.

The Sulfur Cycle.

Micronutrients and Toxic Metals.

Index.
"I can recommend this book as a vital addition to all libraries and bookshelves..." (Forestry, Vol 73/3, 2000)