DJing For Dummies, 2nd Edition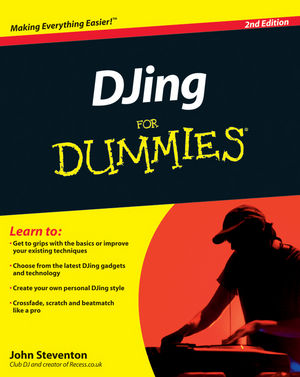 DJing For Dummies, 2nd Edition
ISBN: 978-0-470-66405-6 July 2010 424 Pages
Description
How to start and build a successful career as a DJ-from at-home mixing to making demos to playing to a live crowd
Whether it's a digital or vinyl track of "Proud Mary," a DJ sets the mood, amps up the excitement, and gets a crowd of revelers rockin'. Often an outsized personality, blessed with a gorgeous voice and an encyclopedic knowledge of music, a DJ is this era's new pop star. For those interested in how to begin a career as a DJ, DJing For Dummies offers newcomers all the technical know-how needed as well as advice on how to create your own DJing style and how to make DJing work for you. With tips on equipment essentials, such as turntables, slipmats and needles, headphones, and amplifiers, as well as buying records, CDs, and MP3s, this practical guide takes you through the basics of mixing, song structure, building a foolproof set, creating a great demo, and what to do when you finally face a live audience.
Includes ten resources for expanding your skills and fan base
With invaluable advice on ten DJing mistakes to avoid as well as answers to DJ questions you're too afraid to ask
Includes updated info on the latest software and techniques, expanded content on digital DJing, and DJing over the Internet
With tips on the ten items to take with you when you get a gig, as well as how to DJ at a wedding, DJing For Dummies will help turn your fantasy into an exciting and fun, money-making career.
Introduction.
Part I: Stepping Up to the Decks.
Chapter 1: Catching DJ Fever.
Chapter 2: Starting Up with the Bare Bones.
Chapter 3: Shopping for Equipment.
Chapter 4: Retro Chic or PC Geek? Buying Records, CDs and MP3s.
Part II: Stocking Up Your DJ Toolbox.
Chapter 5: Keeping Up with the Tech-Revolution: Format Choices.
Chapter 6: Getting Decked Out with Turntables.
Chapter 7: Perfecting Your Decks: Slipmats and Needles.
Chapter 8: Spinning with CDs.
Chapter 9: Bits and PCs: Digital DJing.
Chapter 10: Stirring It Up with Mixers.
Chapter 11: Ear-Splitting Advice about Not Splitting Your Ears: Headphones.
Chapter 12: Letting Your Neighbours Know That You're a DJ: Amplifiers.
Chapter 13: Plugging In, Turning On: Set-up and Connections.
Part III: The Mix.
Chapter 14: Grasping the Basics of Mixing.
Chapter 15: Picking Up on the Beat: Song Structure.
Chapter 16: Mixing Like the Pros.
Chapter 17: Scratching Lyrical.
Part IV: Getting Noticed and Playing Live.
Chapter 18: Building a Foolproof Set.
Chapter 19: Creating a Great Demo.
Chapter 20: Getting Busy With It: Working as a DJ.
Chapter 21: Facing the Music: Playing Live.
Part V: The Part of Tens.
Chapter 22: Ten Resources for Expanding Your Skills and Fan Base.
Chapter 23: Ten Answers to DJ Questions You're Too Afraid to Ask.
Chapter 24: Ten Great Influences on Me.
Chapter 25: Ten DJing Mistakes to Avoid.
Chapter 26: Ten Items to Take with You When DJing.
Index.