Dalrymple's Sales Management: Concepts and Cases, 10th Edition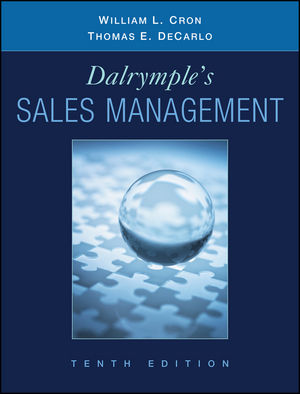 Dalrymple's Sales Management: Concepts and Cases, 10th Edition
ISBN: 978-0-470-16965-0
Dec 2008
528 pages
Description
Easily accessible, real-world and practical, Dalrymple's Sales Management 10e by Cron and DeCarlo introduces the reader to the issues, strategies and relationships that relate to the job of managing an effective sales force. With a lively and engaging style, this book places emphasis on developing a sales force program and managing strategic account relationships. With additional information on team development, diversity in the work force, problem-solving skills, and financial issues, this title provides a complete guide for taking student past the classroom and into a future career in sales management.
1. Introduction to Selling and Sales Management.
2. Strategy and Sales Program Planning.
3. Sales Opportunity Management.
4. Account Relationship Management.
5. Customer Interaction Management.
6. Sales Force Organization.
7. Recruiting and Selecting Personnel.
8. Sales Training.
9. Leadership.
10. Ethical Leadership.
11. Motivating Salespeople.
12. Compensating Salespeople.
13. Evaluating Performance.
NEW Featured Case: Based on the fictional Shield Financial Company. Introduced at the end of Chapter 1, it includes information on company background, product line descriptions, etc. This case is carried throughout the text and is revisited at the end of each chapter. Questions based on the case are at the end of every chapter.
Team Exercises: Over 20 new team exercises for in-class discussion.
NEW Appendix of Cases and Correlation Guide:  To help instructors integrate the cases within their lectures, all cases appear in an appendix and are correlated with topics and chapters in the text.  An Introduction to the Case Method is also included at the beginning of the Appendix.  More than half of the 26 cases are new or significantly reworked for the 10th edition.
Streamlining the Presentation: Chapter discussions have been streamlined for easier reading and retention.
NEW and Expanded Coverage of Sales Networks, Customer Lifetime Value (CLV), Solutions Selling, Marketing-Sales Interaction, and Marketing-Sales Shared Responsibilities.
Excel-based problems at the end of each Management Resource section.  These problems give the student the chance to develop their analytical skills while using the same software that companies are increasingly expecting their employees to be proficient in using. 
Strong coverage of the role of strategic thinking and how the sales force helps in creating customer value and competitive advantage.