Damn Right! : Behind the Scenes with Berkshire Hathaway Billionaire Charlie Munger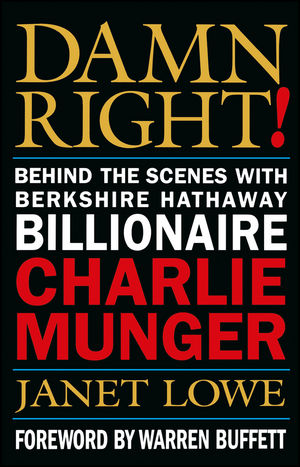 Damn Right! : Behind the Scenes with Berkshire Hathaway Billionaire Charlie Munger
ISBN: 978-0-471-24473-8 October 2000 304 Pages
Description
Praise for Damn Right!
From the author of the bestselling WARREN BUFFETT SPEAKS. . .
"Charlie Munger, whose reputation is deep and wide, based on an extraordinary record of brilliantly successful business strategies, sees things that others don't. There is a method to his mastery and, through this book, we get a chance to learn about this rare individual." -MICHAEL EISNER, Chairman and CEO, The Walt Disney Company
"Janet Lowe uncovers the iconoclastic genius and subtle charm behind Charlie Munger's curmudgeonly facade in this richly woven portrait of our era's heir to Ben Franklin. With a biographer's detachment, an historian's thoroughness, and a financial writer's common sense, Lowe produces a riveting account of the family, personal, and business life of the idiosyncratically complex and endlessly fascinating figure." -LAWRENCE CUNNINGHAM, Cardozo Law School, Author of The Essays of Warren Buffett: Lessons for Corporate America
"For years, Berkshire Hathaway shareholders and investors worldwide (me included) have struggled to learn more about Warren Buffett's cerebral sidekick. Now we can rest and enjoy reading Janet Lowe's book about this rare intellectual jewel called Charlie Munger." -ROBERT G. HAGSTROM, Author of The Warren Buffett Way
"Charlie has lived by the creed that one should live a life that doesn't need explaining. But his life should be explained. In a city where heroism is too often confused with celebrity, Charlie is a true hero and mentor. He lives the life lessons that he has studiously extracted from other true heroes and mentors, from Ben Franklin to Ben Graham. This book illuminates those life lessons." -RONALD L. OLSON, Munger, Tolles & Olson llp
"Janet Lowe's unprecedented access to Charlie Munger and Warren Buffett has resulted in a first-class book that investors, academics, and CEOs will find entertaining and highly useful."-TIMOTHY P. VICK, Money Manager and Author of How to Pick Stocks Like Warren Buffett
An Extraordinary Combination of Minds.

The Lake--A PLace That Defines Munger.

The Nebraskans.

Surviving the Wars.

Putting Together a New Life.

Munger Makes His First Million.

A Combination of Big Ideas.

Pound-for-Pound, the Best Law Firm.

Operating Wheeler, Munger Out of a Utility Room.

Blue Chip Stamps.

See's Candy Teaches a Lesson.

The Belous Case.

The Buffalo Evening News.

Charles Munger Goes to War with the Savings and Loan Industry.

The Blossoming of Berkshire Hathaway.

Berkshire in the 1990s--Power Building.

Salomon Brothers.

The Daily Journal Corporation--A Modest Media Empire.

Doing Good at Good Samaritan Hospital.

Elder Statesman and Conscience of the Investment World.

A Time to Reap Rewards.

Appendices.

Notes.

Index.
She's Bullish on the Lifestyles of the Rich and Famous
Money talks - in an astonishing number of languages. Janet Lowe' s books on business and finance have been translated into 17 tongues, including Thai, Hebrew, Slovenian and three different kinds of Chinese.
President of the San Diego Press Club, former financial editor of the San Diego Tribune and the author of 16 books, Lowe' s writing focuses on the leaders of specific industries. Her latest work, "Damn Right! Behind the Scenes With Berkshire Hathaway Billionaire Charlie Munger," gives further evidence of Lowe' s expertise on money-related success.
The very rich, she observes, seem to have one particular thing in common.
"The people that I have written about all earned their own wealth. They are not inheritors. They did not fall by it accidentally," she said. "It came about as the result of having a particular talent that they recognized very early in their lives, and they concentrated on it."
She says that Warren Buffett was fascinated by investing even as a child, that Oprah Winfrey began working in radio and television while still in high school, that Ted Turner, although a "wild child," was always someone who saw big ideas and took big risks.
Lowe challenges the stereotype of the wealthy as dishonest and ruthless. Money talks - but it talks straight.
"People usually do not rise to this level unless they' re very smart, good communicators, and ethical," she explained. "You may not agree with the philosophy of a Warren Buffett or a Jack Welch (the head of General Electric) and with what they do or how they feel, but they are honest and true to themselves and they follow an ethical course. They'll tell you that if you' re not a straight shooter and an honest dealer, people will see that and not work with you."
The San Diego Union-Tribune Online (By Sarah Sabalos LaSpaluto, October 29, 2000
"Janet Lowe's extensive access to Charlie Munger, his family, friends and business partners has ensured a perceptive look at the man and his business methods." (Lloyd's List, 9th December 2000)
"This is a well-written, fascinating, cautionary tale which examines the seductive nature of power, and people's willingness to believe in these latter-day icons." (International Wealth Management, October 2000)