Dan Gookin's Naked Office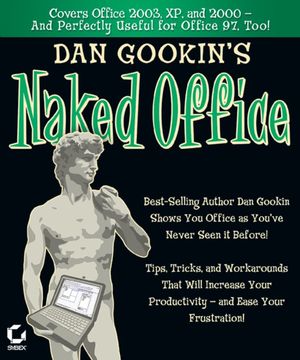 Dan Gookin's Naked Office
ISBN: 978-0-782-14223-5
Nov 2003
585 pages
Product not available for purchase
Description
"The author's humor and his ability to keep the reader's attention are masterful."
—Andy Barkl, Technical Reviewer

Salve For Your Office Headaches!
Covers Office 2003, XP and 2000—And Perfectly Useful for Office 97, Too!

Is it the best thing since sliced bread? A bug-riddled piece of junk? Here, best-selling author Dan Gookin skillfully navigates between these two extremes, laying bare the best and worst of Office in order to help you achieve a single, all-important goal: working faster, easier, and smarter. You'll harness the real power of Word, Excel, PowerPoint, and Outlook while avoiding their pitfalls—and you'll discover the ways they actually can be made to work together as a truly integrated suite. Dan Gookin's Naked Office means the end of Office-inspired headaches. (Well, the vast majority of them, anyway. He's not a miracle-worker, after all.)

Expert Instruction to Change Office Life as You Know It (for the Better)
Making a paragraph look the way you want it to look
Understanding how styles work and making them work for you
Locking a document to prevent changes, and tracking changes made by others
Using Excel as a database--and not just for numbers
Unraveling formulas and remembering what goes where
Organizing e-mail with Outlook
Getting the most out of Outlook's scheduling abilities
Unlocking the mechanics and philosophy of PowerPoint presentations
Oh, and of course--much, much more
INTRODUCTION.
Part 1: From Word to Paragraph to Document.
1: Life beyond the Basic Word.
2: Alas, There Is No Such Thing as a ?Simple? Document.
3: Making Your Documents and Reports More Fancy.
4: Oh the Sacrilege of Drawing in a Word Processor!.
5: Using Styles and Templates to Save Oodles of Time.
6: Writing That Great American Novel or Screenplay.
7: The Tough Stuff: From Labels to Tables.
8: Sharing Your Work with Others.
9: Making Your Own Custom Word.
Part 2: Excel.
10: Why the Hell Would Anyone Other than an Accountant Use Excel?.
11: It?s Super Dooper Grid Time!.
12: Some Excel-lent Formatting Tricks.
13: Oh No! The Horrible Math Chapter!.
14: Fun with Charts and Graphs.
15: Excel Templates, Samples, and Web Mischief.
Part 3: Outlook.
16: Just Your Intermediate E-mail.
17: Managing Your E-mail.
18: E-mail Rules!.
19: Making the Best of Your Contacts.
20: Organizing the Rest of Your Life.
Part 4: PowerPoint.
21: Beyond Your Basic Slide Show.
22: Giving a Show without Breaking a Leg.
INDEX.
Chapter
Page
Details
Date
Print Run
Combined Errata


Page 12

Para 4, line 1, "Word 11/XP" should read "Word 2003/XP"

Page 55

Para 3, line 1, "Word 11" should read "Word 2003"

Page 56

Last para, line 1, "Office 11" should read "Office 2003"

Page 219

Page 233

Under Am I Spelling This Properly?, para 3, line 1, "Excel 11/XP" should read "Excel 2003/XP"

Page 240

Para 1, lines 2 and 3, "Excel 11/XP" should read "Excel 2003/XP"




---