Dan Gookin's Naked Windows XP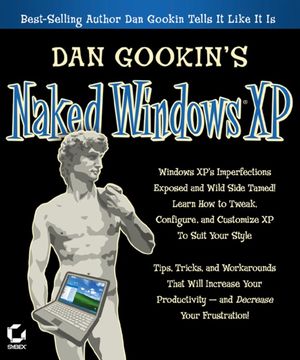 Dan Gookin's Naked Windows XP
ISBN: 978-0-782-14076-7
Jun 2002
464 pages
Product not available for purchase
Description
At Last! A Book for Intermediate Users!
Do you find Windows XP frustrating? You're not alone. Best-selling author Dan Gookin lays bare the best (and worst) of Windows XP in this book for users who want to work faster, easier, and smarter. If you want real help dealing with Windows XP's imperfections, take a deep breath and let Dan be your guide. Using easy-to-follow instructions, Dan reveals alternative (and better) ways of completing particular tasks, shows you how to use powerful productivity-increasing commands, and teaches you how to configure Windows to suit your needs. You'll also learn how Windows works so that you can always remain one step ahead of it. Dan Gookin's Naked Windows XP transforms you into a more expert, dynamic, and headache-free user.
Expert Advice That Will Change Life As You Know It (for the Better)
* Why the System Configuration utility is a buried treasure...and what it can do for you
* Whipping Internet Explorer into shape
* Dinking with and wrangling the Taskbar
* Sending the Quick Launch bar to obedience school
* Fixing, pruning, and grafting menus
* Making the Desktop your own
* Protecting files from death, destruction, or mere accidental erasure
* Teaching the Notification Area to obey your whim
* Secrets and solutions for working with images and graphics
* How MediaPlayer's playlists can make your life easier
* Curing those Internet connection blues
* How to say ""No!"" to spam
* Disk management chores you really need to do
* And much more!
INTRODUCTION.
Part 1 Windows XP from Desktop to bottom.
1 Who Could Believe That Thereâ??s a Harder Way to Log Into Windows?.
2 Startup Options, Situations, and Programs.
3 Halting Desktop Madness (Part I).
4 Halting Desktop Madness (Part II).
5 Taming the Taskbar.
6 Betcha Didnâ??t Know All This Stuff About the Start Panel.
7 Learn About the Quick Launch Bar So You Look Better Than Your Co-Workers Who Are Clueless.
8 Other Creative and Useful (But Not Too Bizarre) Ways to Start your Stuff.
9 Stuff You Should Know About Your Documents and My Documents.
10 The My Computer Folder: Not as Important as My Documents, but Vital Nonetheless.
11 There Must Be a Better Way to Get to the Control Panel.
Part 2 All the Intermediate-Level, Good Stuff about Disks, Files, and Stuff Like That .
12 The Complete Summary of File Manipulation Commands, 90% of Which You Didnâ??t Know.
13 Bow to Drive C or Suffer the Perilous Consequences.
14 Archiving Techniques to Save Your Butt.
15 All the Necessary Information About Burning a Data CD-R or CD-RW Disk.
Part 3 Nifty Audio and Graphics Information That No One Shares.
16 What You Need to Know About Graphics to Survive.
17 Image-Scanning, Digital Camera, and Photo-Editing Tips.
18 Graphics and the Internet.
19 The Wee Graphics: What You Donâ??t Know About Icons.
20 For All Issues Audio, We Worship at the Temple of Windows Media Player.
Part 4 Thereâ??s More Internet Out There Than You Know .
21 Connecting to the Internet (or Not, as the Case May Be).
22 Beating Internet Explorer into Submission.
23 Confronting Your Basic E-Mail Frustrations.
24 Just Enough Address Book to Make Your Life Easier.
Part 5 All the Random Tidbits about Configuring Your Computer That Youâ??ll Want to Ignore But Shouldnâ??t .
25 Say! Isnâ??t that a creaky old DOS program you have there?.
26 True Geniuses Know How to Manage Disk Drives.
27 The Task Manager Nightmare.
28 I Really Want to Impress My Friends and Coworkers with My Knowledge of System Administration.
INDEX.
Chapter
Page
Details
Date
Print Run
Combined Errata,

Page 14

In the first paragraph, the reference to save mode should be safe mode

Page 105

Change the words Registry Editor to Program Manager in items 13 and 20.

Page 214

Figure 15.5 has the legends swapped for the two sets of files. The captions on the right hand side of the figure should reverse positions.

Page 424

Item 3, The word megabyte in the second line from the top should be changed to gigabyte.