Dancing in Limbo: Making Sense of Life After Cancer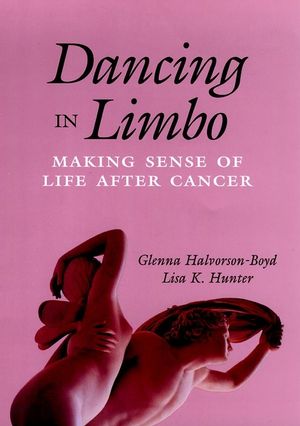 Dancing in Limbo: Making Sense of Life After Cancer
ISBN: 978-0-787-90103-5
Oct 1995
192 pages
Description
Life After Cancer

I immediately wanted to recommAnd this book to my patients. [It] will serve as a roadmap to help cancer patients anticipate feelings and stages of the coping process. It will help demystify the complex and often baffling set of experiences on the uncertain path of cancer survivorship.
--Elisabeth Targ, M.D., Geraldine Brush Cancer Research Institute, California Pacific Medical Center

An intimate and inspiring account of the authors' real-life experiences of surviving cancer. The authors provide a straightforward account of what life is like after the whirlwind of doctors' visits and radical treatments comes to an And.
Breaking the Silence.

Waking Up in Limbo.

Why Me?

Taking the First Steps: Fears of Recurrence.

Beginning to Dance: Grieving Our Losses.

Side-Stepping the Dance: The Illusion of Control.

Social Dancing After Cancer.

Making Sense of Life.
"Dancing in Limbo is filled with deeply moving, personal insights into the hopes, fears, and triumphs of cancer survivors who have transformed the threat of imminent death into a celebration of life ... must reading for all cancer patients, their families, friAnds, and health care providers." (Dr. Kenneth R. Pelletier, author of Sound Mind, Sound Body and Mind as Healer, Mind as Slayer)

"This is fabulous and very brave writing. Everyone with a life-threatening illness should read this. Everyone who loves someone with a life-threatening illness should read this. Actually, come to think of it, everyone who wants to be more fully present for their life should read itafter all, we're all terminal on this bus." (Anne Lamott, author of Bird by Bird and Operating Instructions)

"I immediately wanted to recommAnd this book to my patients. [It] will serve as a roadmap to help cancer patients to anticipate feelings and stages of the coping process. It will help demystify the complex and often baffling set of experiences on the uncertain path of cancer survivorship." (Elisabeth Targ, M.D., Geraldine Brush Cancer Research Institute, California Pacific Medical Center)

"Here's a book that finally tells the truth about living in limbo. For those who are surviving cancer, it provides validation, support, and guidance in coping with the threat of recurrence ... a process that stretches into the years following a cancer diagnosis. For families, friAnds, and health professionals, it eloquently and powerfully portrays the emotional experience of life after cancer--helping us to better understand, admire, and learn from those who have had to confront their mortality and are forever changed by this experience." (Andrew W. Kneier, Ph.D., clinical psychologist, UCSF/Mount Zion Cancer Center)

"Dancing in Limbo leads readers through the dark morass of grief over so many losses to the new, positive identity of a survivor. The authors, Glenna and Lisa, quickly become companion travelers, offering wise counselor and helpful insights that guide the reader through what otherwise would remain an agonizing worry and darkness." (Neil Fiore, Ph.D., author of The Road Back to Health: Coping with the Emotional Aspects of Cancer (1990))