Dante: A Brief History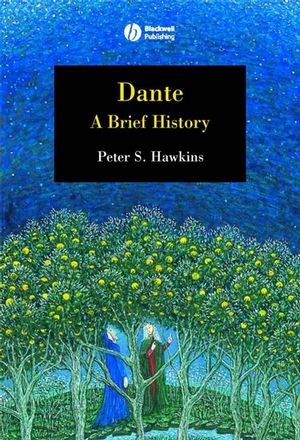 Dante: A Brief History
ISBN: 978-1-405-13052-3 September 2006 Wiley-Blackwell 224 Pages
Download Product Flyer
Download Product Flyer
Download Product Flyer is to download PDF in new tab. This is a dummy description. Download Product Flyer is to download PDF in new tab. This is a dummy description. Download Product Flyer is to download PDF in new tab. This is a dummy description. Download Product Flyer is to download PDF in new tab. This is a dummy description.
Description
For over seven centuries, Dante and his masterpiece, The Divine Comedy, have held a special place in Western culture. The poem is at once a vivid journey through hell to heaven, a poignant love story, and a picture of humanity's relationship to God. It is so richly imaginative that a first reading can be bewildering. In response, Peter Hawkins has written an inspiring introduction to the poet, his greatest work, and its abiding influence. His knowledge of Dante and enthusiasm for his vision make him an expert guide for the willing reader.
Table of contents
List of Illustrations.
Acknowledgments.
List of Abbreviations.
Prologue: Invitation to a Reader.
1 Dante's Life and Works.
The Life Story.
The Figure of Beatrice.
Political Life.
The Work of Exile.
On Vernacular Eloquence and Philosophy for All.
Universal Empire.
The Birth of the Commedia.
Vision or Brainstorm?.
Textual Inspiration for the Poem.
Early Circulation of the Poem.
2 Dante's Journey to God.
Inferno.
Purgatorio.
Paradiso.
3 Dante's Beatrice.
The Advent of Beatrice.
The Problem of Beatrice.
The Novelty of Beatrice.
Bidding Adieu.
Eros and Sex in the Commedia.
Paolo and Francesca, Dante and Beatrice.
Dante's Sexuality.
A Beloved in the Flesh.
4 Dante's Religion.
Dante's Core Beliefs.
Christian Florence.
A Personal Faith Story.
But Where is Christ?.
The Christ of the Theologians.
Mediations of Christ in the Commedia.
Mary as Christ's Flesh.
Daughter of Her Son.
The Beatific Smile.
5 Dante's Afterlife.
Dante in English.
From Beyond the Pale to Cultural Centrality.
Twentieth-Century Dante.
The Artist's Dante.
The Commedia in Performance: Drama, Film, Television.
Postmodern Dante.
Commedia in Comics.
What Next?.
Notes.
Bibliography.
Index.
Reviews
?Hawkins? book has been written with students and teachers in mind, and having used it in the classroom, I can say that in this it succeeds signally.? (
Theology
, September 2009)
?The unmistakably personal voice in which the book is written is by turns amusing, touching, and finally compelling, as it moves?without, and this is Hawkins's great achievement, ever losing sight of Dante himself?from youthful memories to anecdotes of the classroom to rueful acknowledgment of emotional failure and loss to ominous visions of impending dissolution.? (Speculum, Winter 2009)
?The medieval Italian poet Dante is one of those literary ?greats? that many believe only really clever, highly-educated people can access and enjoy. Fortunately, self-confessed Dante lover, Peter Hawkins, has written a little gem of a book which gives us less scholarly types a glimpse ? [It] represents his effort to transition a lifetime?s passion and scholarship into a highly readable, most satisfying encounter with this master artist/theologian. Anyone who has ever contemplated life, death and beyond, will find treasures and wisdom for life?s journey in this slim, 194 pages volume.? (Methodist Recorder)
"An accessible writing style, small format and attractive contemporary art will make the book appealing to readers new to Dante. Those already proficient will delight in the many new perspectives and insights the author provides." (America: The National Catholic Weekly)
Features


A lively and appealing profile of the great Italian writer, Dante Alighieri.

The author draws on 30 years of teaching and writing about Dante in order to bring the poet to life.

Introduces readers to Dante's great masterpiece, the Commedia, and traces it reception over the centuries.

Probes Dante's idiosyncratic interpretation of Christian theology.

Will inspire newcomers to Dante to read his work and view it in religious and cultural context.