Data, Statistics, and Decision Models with Excel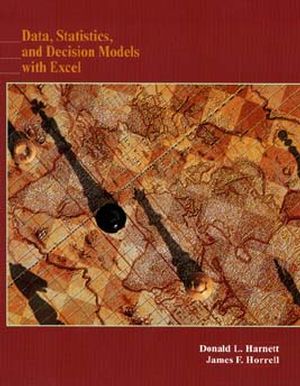 Data, Statistics, and Decision Models with Excel
ISBN: 978-0-471-13398-8 February 1998 624 Pages
Description
This book is intended for statistics instructors who want to make the introductory statistics course relevant to their MBA students. If you are wrestling with the topical overlap reflected in many quantitative methods courses or if you want to integrate the use of Excel in your statistics course or if you are looking for a truly different organization and approach to the introductory course, this book is for you. This is a truly interdisciplinary textbook, drawing on examples from accounting, business economics, finance, MIS, operations, management and marketing., and focusing on decision making, rather than formulas or tools. Problem orientation throughout the book involves a wide variety of business applications, especially operations management, finance and economics, for these disciplines are rich in their use of quantitative methods.
Table of contents
Introduction to Quantitative Decision Making.

Discrete Probability and Decision Analysis.

Decision Making with Binomial and Normal Probabilities.

Decisions Based on Sample Statistics.

Sample Design and Estimation.

Decisions Based on Linear Relationships.

Hypothesis Testing.

Quality Control.

Forecasting.

Analysis of Variance.

Simulation.

Linear Programming.

Appendices.

Data Disk Files.

Selected References.

Answers to Even-Numbered Problems.

Index.
Features
KADDSTAT gives students a powerful tool for performing various statistical processes such as:
Control Charts
Estimation, Confidence Intervals and HypothesisTesting
Auto Correlation
Expo