Data Analysis Using SQL and Excel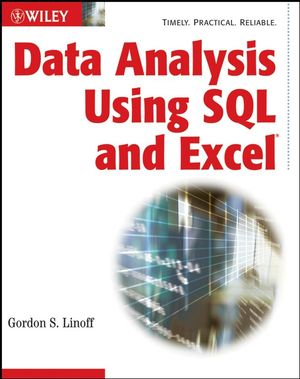 Data Analysis Using SQL and Excel
ISBN: 978-0-470-09951-3
Oct 2007
696 pages
Product not available for purchase
Description
Useful business analysis requires you to effectively transform data into actionable information. This book helps you use SQL and Excel to extract business information from relational databases and use that data to define business dimensions, store transactions about customers, produce results, and more. Each chapter explains when and why to perform a particular type of business analysis in order to obtain useful results, how to design and perform the analysis using SQL and Excel, and what the results should look like.
Foreword.
Acknowledgments.
Introduction.
Chapter 1 A Data Miner Looks at SQL.
Chapter 2 What's In a Table? Getting Started with Data Exploration.
Chapter 3 How Different Is Different?
Chapter 4 Where Is It All Happening? Location, Location, Location.
Chapter 5 It's a Matter of Time.
Chapter 6 How Long Will Customers Last? Survival Analysis to Understand Customers and Their Value.
Chapter 7 Factors Affecting Survival: The What and Why of Customer Tenure.
Chapter 8 Customer Purchases and Other Repeated Events.
Chapter 9 What's in a Shopping Cart? Market Basket Analysis and Association Rules.
Chapter 10 Data Mining Models in SQL.
Chapter 11 The Best-Fit Line: Linear Regression Models.
Chapter 12 Building Customer Signatures for Further Analysis.
Appendix Equivalent Constructs Among Databases.
Index.
xxxi
Error in Text,fourth paragraph:

Datran Marketing

should be:

Datran Media
04/11/2008
xxxii
Correction,third complete paragraph:

Insert Christian Albright between Eran Abikhzer and Michael Benigno
04/11/2008
13
Error in Code,first code box:

The string SUBSSTRING

should be:

SUBSTRING [there are two adjacent s s in the text]
04/11/2008
31
Error in Code,first code box, fifth line:

) as num_10000,

should be:

) pop_10000, [changing the name of the variable]
04/11/2008
31
Error in Code,first code box, seventh line:

) as num_1000,

should be:

) pop_1000, [changing the name of the variable]
04/11/2008
287
Error in Text, This table could be created using the process described earlier for calculating survival in SQL, . . .

should be:

This table could be created using the process described earlier in this chapter (starting on page 256) for calculating survival in SQL, . . .
04/11/2008
468
Error in Code,last line on page in code box:

ORDER BY 1 ASC

should be:

ORDER BY 4 ASC
04/11/2008