Data Mining Techniques: For Marketing, Sales, and Customer Relationship Management, 2nd Edition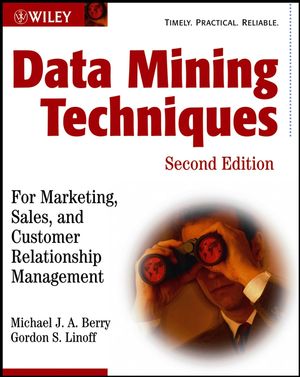 Data Mining Techniques: For Marketing, Sales, and Customer Relationship Management, 2nd Edition
ISBN: 978-0-764-56907-4 April 2004 660 Pages
Description
Packed with more than forty percent new and updated material, this edition shows business managers, marketing analysts, and data mining specialists how to harness fundamental data mining methods and techniques to solve common types of business problems
Each chapter covers a new data mining technique, and then shows readers how to apply the technique for improved marketing, sales, and customer support
The authors build on their reputation for concise, clear, and practical explanations of complex concepts, making this book the perfect introduction to data mining
More advanced chapters cover such topics as how to prepare data for analysis and how to create the necessary infrastructure for data mining
Covers core data mining techniques, including decision trees, neural networks, collaborative filtering, association rules, link analysis, clustering, and survival analysis
Acknowledgments.
About the Authors.
Introduction.
Chapter 1: Why and What Is Data Mining?
Chapter 2: The Virtuous Cycle of Data Mining.
Chapter 3: Data Mining Methodology and Best Practices.
Chapter 4: Data Mining Applications in Marketing and Customer Relationship Management.
Chapter 5: The Lure of Statistics: Data Mining Using Familiar Tools.
Chapter 6: Decision Trees.
Chapter 7: Artificial Neural Networks.
Chapter 8: Nearest Neighbor Approaches: Memory-Based Reasoning and Collaborative Filtering.
Chapter 9: Market Basket Analysis and Association Rules.
Chapter 10: Link Analysis.
Chapter 11: Automatic Cluster Detection.
Chapter 12: Knowing When to Worry: Hazard Functions and Survival Analysis in Marketing.
Chapter 13: Genetic Algorithms.
Chapter 14: Data Mining throughout the Customer Life Cycle.
Chapter 15: Data Warehousing, OLAP, and Data Mining.
Chapter 16: Building the Data Mining Environment.
Chapter 17: Preparing Data for Mining.
Chapter 18: Putting Data Mining to Work.
Index.
Chapter
Page
Details
Date
Print Run
183
Error in Calculation
Variance is calculated incorrectly:

(0.92 + 9*0.12)/10 = 0.09

should be:

(0.81 + 9*0.01)/10 = 0.09
08/20/2007

---

260
Table 8.1
Page 260, table 8.1. The headings $1,000 and $1,500 are reversed.
11-07-2005

---

262
Text
Page 262. The bit starting with the third sentence should read "For Shelter Island, the midpoint of the most common range is $875. . . . rent in Tuxedo of $1,062.50."
11-07-2005

---

299
Table 9.2
Page 299, table 9.2. Some of the co-occurrences are wrong. OJ+Soda should be 2. Soda+Detergent should be 1.
11-07-2005

---

310
Table 9.6
Page 310, table 9.6. There is an extraneous degree symbol in the heading.
11-07-2005

---
Offers concise, clear, and practical explanations of complex concepts                                  

Covers core datat mining techinques, including:  decision trees; neural networks; collaborative filtering; association rules, link analysis, clustering; and survival analysis

Provides an overview of data mining best practices and how to perform data mining using simple tools like Excel.

Includes advanced chapters which cover such topics as how to prepare data for analysis and how to create the necessary infrastructure for data mining at your company.