Dating For Dummies, 3rd Edition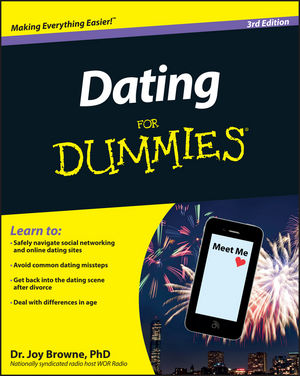 Dating For Dummies, 3rd Edition
ISBN: 978-0-470-89205-3 January 2011 432 Pages
Description
Trusted guidance on meeting Ms. or Mr. Right
With new and updated content, Dating For Dummies, 3rd Edition includes all the information you'll need for navigating the contemporary, social media driven dating scene where women and men Google potential dates beforehand, Tweet after, and even meet on Facebook. You'll find all you need to use these social media sites and take advantage of the ever-expanding ways to socialize, flirt, and date in the 21st century. With dating advice for singletons in all stages of life (including baby boomers), you'll get the confidence to date someone who is significantly older or younger, someone who has been previously married, or someone with children. Author Dr. Joy Browne, America's favorite psychologist, demystifies the whole dating process, from getting a date, plotting the place, and having a great time (or dealing with duds) to moving beyond a first date toward a budding relationship.
Confidence boosters to help meet, date, and start a relationship with Mr. or Ms. Right
Safe tips and advice on using social networks like Facebook and Twitter to meet new people
The latest tips about dealing with money matters and dating diversity
If you're looking for a fun Saturday night date or a happily-ever-after mate, Dating For Dummies is the guide for you!
Cannot be combined with any other offers.
Original Price:$44.94
Purchased together:$33.71
save $11.23
Table of contents
Introduction.
Part I: The Starring Roles: Who Am I and Whom Do I Want?
Chapter 1: Thoroughly Modern Dating.
Chapter 2: Being Confident.
Chapter 3: Polishing Your Social Self.
Chapter 4: Finding Out What Makes You Tick.
Chapter 5: The Perfect Date: Person and Place.
Part II: Setting Up the Date.
Chapter 6: Asking for a Date.
Chapter 7: Plotting the Perfect (Sorta) First Date.
Part III: The Big Day: Preparation and Action.
Chapter 8: Getting Your Outside Ready.
Chapter 9: Getting Your Inside Ready.
Chapter 10: Impressions: First and Lasting.
Chapter 11: Having a Way Cool Time.
Chapter 12: Not Having a Way Cool Time.
Part IV: The Day After and Beyond.
Chapter 13: The Next Day.
Chapter 14: The Second Date.
Chapter 15: To Blab or Not to Blab: Sharing Personal Info.
Chapter 16: Speed Bumps on Life's Highway.
Chapter 17: Getting to Serious.
Chapter 18: Breaking Up.
Chapter 19: Rebound.
Part V: Playing It Safe and Keeping It Fresh.
Chapter 20: Safety First.
Chapter 21: Dating Sight Unseen.
Chapter 22: Keeping It Fresh, Alive, and Healthy.
Part VI: The Part of Tens.
Chapter 23: Ten+ Do's and Don'ts of Internet Dating.
Chapter 24: Ten Ways to Know You're in Love.
Chapter 25: Ten Sexual Commandments of Dating.
Chapter 26: Ten Ways to Make You and Your Date Miserable.
Appendix: Catch Phrases.
Index.