Dating - Philosophy for Everyone: Flirting With Big Ideas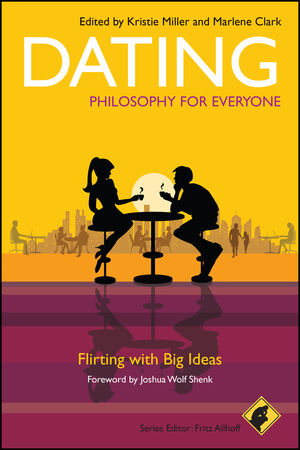 Dating - Philosophy for Everyone: Flirting With Big Ideas
ISBN: 978-1-444-34138-6
May 2011, Wiley-Blackwell
256 pages
Description
Progressing from the first flirtatious moment of eye contact to the selection of a "mate," this enlightening book offers playful philosophical explorations of the dating game for anyone who has dated, is dating, or intends to date again. 
Offers amusing and enlightening philosophical insights into the dating game
Helps demystify coupling in the 21st century for those young daters just entering the fray, and those veterans returning to the game
Features contributions from a wide range of disciplines, including philosophy, psychology, communications, theology, economics, health sciences, professional ethics, and engineering and applied sciences
Opens with Carrie Jenkins' ground-breaking essay, The Philosophy of Flirting, first published in The Philosopher's Magazine
Foreword
(Joshua Wolf Shenk, Slate.com)
.
Acknowledgments (Kristie Miller, University of Sydney and Marlene Clark, City University of New York).
Flirting with Big Ideas: An Introduction to Dating – Philosophy for Everyone (Kristie Miller, University of Sydney and Marlene Clark, City University of New York).
Part I: Getting Started: From Flirting to Dating:
1. The Philosophy of Flirting (Carrie S. Jenkins, University of Nottingham).
2. Good Girls Don't, but Boys Don't Either: Toward a Conservative Position on Male Flirting (Emily Langan, Wheaton College).
3. Love for Sale: Dating as a Calculated Exchange (Jennifer A. Samp, University of Georgia and Andrew I. Cohen, Georgia State University).
4. The Dating Elevator: Pushing the Right Buttons and Moving from Floor to Floor (John Rowan, Purdue University and Patricia Hallen, Purdue University).
Part II: No-No's: Dating Taboos:
5. "Crazy in Love": The Nature of Romantic Love (Mary Beth Yount, Duquesne University).
6. I'm Dating My Sister, and Other Taboos (Kristie Miller, University of Sydney).
7. Just Pushy Enough (Anne Barnhill, Johns Hopkins University).
8. Buy My Love: On Sex Workers, Gold Diggers, and "Rules Girls" (Kyla Reid, University of Sydney and Tinashe Dune, University of Sydney).
Part III: Rolling Right Along: Dating Like a Pro:
9. Against Matchmaking (Joshua S. Heter, St. Louis University).
10. Hitting the Bars with Aristotle: Dating in a Time of Uncertainty (Richard Paul Hamilton, University of Notre Dame Australia).
11. I've Never Been on a Date (yet Somehow I Got Married!) (Andrew Terjesen, Rhodes College).
12. Morality, Spontaneity, and the Art of Getting (Truly) Lucky on the First Date (Christopher Brown, National University of Singapore and David W. Tien, National University of Singapore).
Part IV: Another World: Cyber-Rendezvous:
13. Dating and Play in Virtual Worlds (Bo Brinkman, Miami University, Ohio).
14. How To Be Yourself in an Online World (Dan Silber, Florida Southern College).
Part V: From Date to Mate: "Natural" Selection?:
15. Evolutionary Psychology and Seduction Strategies: Should Science Teach Men How to Attract Women? (Hichem Naar, University of Manchester and Alberto Masala, University of Paris-Sorbonne).
16. Mating, Dating, and Mathematics: It's All in the Game (Mark Colyvan, University of Sydney).
17. Why Less May Be More: Dating and the City (Marlene Clark, City University of New York).
Notes on Contributors.
"If you enjoy philosophy and are dating (or find the topic interesting), then by all means this is a book you would want to check out." (Littleredrails.com, January 2011)