Days of Whine and Noses: Pep Talks for Tuckered-Out Moms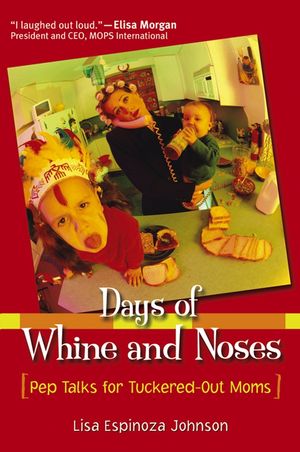 Days of Whine and Noses: Pep Talks for Tuckered-Out Moms
ISBN: 978-0-787-96881-6
Feb 2004, Jossey-Bass
192 pages
Product not available for purchase
Description
With wit and candor, popular Christian Parenting Today columnist Lisa Espinoza Johnson shows how your ordinary moments of mothering little ones can teach extraordinary life lessons. Each of the book's bite-size chapters contains hilarious personal stories and observations about the everyday experiences of motherhood—breastfeeding, teething, potty training, birthday parties, family pets, household chores—that culminate in unexpected insights. Amidst the dailiness of mothering, Johnson finds deep and profound meaning. Her words will guide and sustain you while you are fulfilling the most significant role of your life.
Acknowledgments.
Introduction.
On First-Time Parents.
On Potty Training.
On Binkies.
On Moms and Fashion Statements.
On Little Surprises.
On Teething.
On Sleep Deprivation.
On Oozing Poop.
On La Décor des Bébés.
On Buying Time.
On Colic.
On Sex After Kids.
On Perpetual Messes.
On Bathroom Matters.
On Labor Discomfort.
On Family Vehicles.
On Mommy Talk.
On Runny Noses.
On Owies.
On Grocery Shopping with a Toddler.
On Kids and Anatomy.
On Road Trips with Kids.
On Family Pets.
On Laundry.
On Nursing.
On Public Humiliation.
On Dog Food and Empty Boxes.
On Postpartum Changes.
On Picture Day.
On Flying with Babies.
References.
About the Author.
Get Connected.