Deafness and Education in the UK: Research Perspectives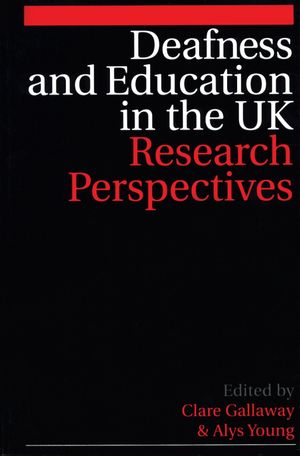 Deafness and Education in the UK: Research Perspectives
ISBN: 978-1-861-56369-9 April 2003 250 Pages
Description
This collection of research in deafness and education should be of interest to UK and overseas readers alike. It addresses key aspects of research in the UK within the areas of learning support, understanding progress and achievement and interaction at home and at school. Its content should be of interest to a wide range of professionals: teachers; doctors; audiologists; habilitation staff; speech and language therapists; and academics such as lecturers and researchers. For students of deaf education and special educational needs, as well as some parents of deaf children, it should serve as a useful contemporary text.
The editors' aim has been to make current and on-going research from a variety of disciplines accessible to this wide range of readers. Descriptions of research context and up-to-date referencing in each chapter should prove useful as sources and hints for further reading.
Table of contents
Part 1.
Interaction at Home and at School, Deaf Adults and Family intervention Projects.
Interaction With a Deaf Child.
The Contributions Made by mother, Father and Sister.
Conversations Where English is an Additional language.
Spoken Communication Between Deaf and Hearing Pupils.
Deaf Children in Hearing Classrooms.
Teacher-pupil Talk in Secondary Schools.
Part 2.
Focus on Progress and Attainment.
Developing a Picture of Attainments and Progress of deaf Children in Primary Schools.
Sign Bilingual Deaf Children's Writing strategies.
Responses to Different Sources for Writing, Promoting Social and emiotional Development in Deaf Chldren.
Research Into Outcomes From Paediatric cochlear Implantation.
Pilot Study of Two-channel Compression Hearing Aid.
Investigating Text Support for Deaf Students.
Bsl/english Interpreting in higher Education.
Index.