Dean LeBaron's Book of Investment Quotations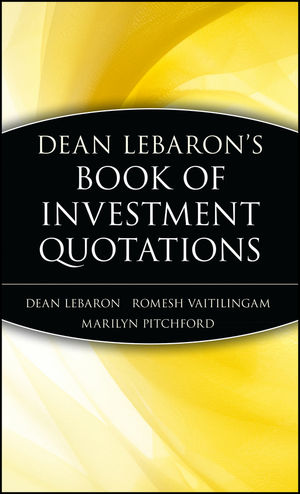 Dean LeBaron's Book of Investment Quotations
ISBN: 978-0-471-15350-4
Jan 2002
400 pages
Product not available for purchase
Description
Praise for Dean LeBaron s Book of Investment Quotations

"Looking for a pungent quote to help round out a speech or paper? You ll find it here. Looking for a pleasant, enlightening reading experience? You ll find that here too. Enjoy Dean LeBaron s fine compendium at your leisure." John C. Bogle, Founder, The Vanguard Group

"A delightful compilation of humorous and thought-provoking quotations on all aspects of investment management from one of the legends of the investment business." Burton G. Malkiel, author of A Random Walk Down Wall Street

"Humorous and humbling. This must be the greatest collection of words that I wish I had said, expressing insights that I wish that I had had. To open the book to any page is to assure yourself of joy." Bob Monks, Chairman of Lens Investment Management LLC and Publisher, www.ragm.com

"A delightful and remarkably insightful collection of aphorisms, adages, and epigrams lovingly hand-collected over the years by the dean of modern investment management." Andrew W. Lo, Harris & Harris Group Professor of Finance, MIT Sloan School of Management

"From Warren Buffett to Jack Welch, Dean LeBaron has assembled a vast collection of insightful and wry quotes about investing in particular and life in general. It s great fun to browse, and an invaluable resource for speeches and articles." Martin Barnes, Managing Editor, The Bank Credit Analyst

"A veritable march through a battery of apt quotations. They have been judiciously drawn from a wide variety of sources, old and new, combining humor with wisdom. I don t know what quote addicts did before Dean LeBaron began collecting. This treasure chest, with its very personal touch, supersedes all earlier efforts at collecting investment quotations. With its broad coverage and thoughtful section summaries, I find it an extremely helpful and enjoyable desk companion." William Wirth, Credit Suisse Group
Preface.

Active Portfolio Management.

Contrarian Investing.

Corporate Governance.

Corporate Restructuring.

Economic Forecasting.

Emerging Markets.

Financial Engineering.

Fixed Income.

Foreign Exchange.

Global Investing.

Growth Investing.

Hedge Funds.

Indexing.

Initial Public Offerings.

International Money.

Internet Investing.

Investment Consultants.

Investment Policy.

Investor Psychology.

Manias, Panics and Crashes.

Market Efficiency.

Mutual Funds.

Performance Measurement.

Politics and Investing.

Quantitative Investing.

Risk Management.

Short Selling.

Technical Analysis.

Value Investing.

Venture Capital.

Name Index.

Keyword Index.
"US Fund Manager Dean LeBaron's substantial collection is an invaluable guide to the dos and don'ts of investment. It is primarily for entertainment, with sources from all centuries, but the underlying message is serious." (Investor's Week, 28 March 2002)