Dear Celebrity: Absurd Letters to the Stars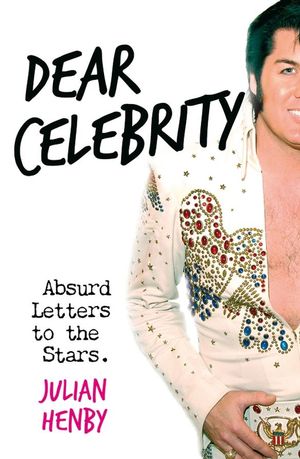 Dear Celebrity: Absurd Letters to the Stars
ISBN: 978-1-907-29358-0
Jan 2010
142 pages
Description
Welcome to the weird and wonderful world of Julian Henby. For some time now, Julian, the Bridget Jones of letter writing, has been badgering decent, hard-working celebrities with a barrage of frankly absurd correspondence, often relating to his dysfunctional family and pets. Dear Celebrity is a compilation of some of his finest work and includes many of the best celebrity responses. 

So, can Matthew Kelly find Henby's mother a job as a Bearded Lady? Will Professor Lord Robert Winston be able to do anything to help Julian's hamster, David, whose locomotion is severely impaired by his erection which drags along the floor like a fifth leg? Will Joanna Lumley find the time to visit Julian's elderly uncle to talk about her career? And why does Sir Jimmy Savile insist on being the Loch Ness monster?

The answers to these and many more questions are to be found here...
Jimmy Savile.
Damien Hirst.
Huw Edwards.
Michael Jackson.
Des O'Connor.
Rod Steward.
Brian Blessed.
Robert Winston.
Nick Baker.
Patrick Moore.
Noel Edmonds.
Michael Flatley.
Sophie Ellis-Bextor.
Private Bill Office.
Hugh Grant.
George W Bush.
Bill Oddie.
Richard Briars.
David Bellamy.
Uri Geller.
John Major.
Barry McGuigan.
Carol Vorderman.
Tom Baker.
Frank Carson.
Jeremy Clarkson.
Nicholas Parsons.
Des Lynam.
Kate Winslet.
Margaret Thatcher.
Gary Linekar.
JK Rowling.
Joe Pasquale.
James Herbert.
Anthony Hopkins.
Beefeater.
Paul McCartney.
Peter Duncan.
June Brown.
Brian Connolly.
Michael Buerk.
Ian Hislop.
Gareth Gates.
Steve Redgrave.
Jools Holland.
Michael Fish.
Matthew Kelly.
Sylvester McCoy.
Nick Ross.
Tara P-T.
Cliff Richard.
Paul McKenna.
Emma Thompson.
Victoria Wood.
Nigel Havers.
Paul McKenna.
Edwina Currie.
Phillip Schofield.
Richard Stilgoe.
Alan Davies.
Anneka Rice.
Keith Chegwin.
Adam Hart-Davis.
Joanna Lumley.
Brian May.
Richard Wilson.
Lulu.
Elvis Presley.
About the author.