Death and Dying in America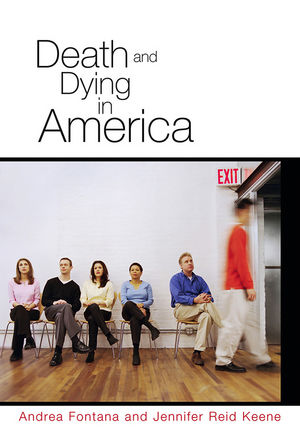 Death and Dying in America
ISBN: 978-0-745-63914-7
Jul 2009, Polity
220 pages
Description
This engaging new book takes a fresh approach to the major topics surrounding the processes and rituals of death and dying in the United States. It emphasizes individual experiences and personal reactions to death as well as placing mortality within a wider social context, drawing on theoretical frameworks, empirical research and popular culture.

Throughout the text the authors highlight the importance of two key factors in American society which determine who dies and under what circumstances: persistent social inequality and the American consumerist ethic. These features are explored through a discussion of topics ranging from debates about euthanasia to deaths resulting from war and terrorism; from the death of a child to children's experience of grieving and bereavement; and from beliefs about life after death to more practical issues such as the disposal of the dead body.

Drawing on sociological, anthropological, philosophical, and historical research the authors present the salient features of death and dying for upper-level students across the social sciences. For anyone interested in learning more about the end of life, this book will provide a useful and accessible perspective on the uniquely American understanding of death and dying.
Acknowledgements
Part 1 Death and Culture
1. An American View of Death
2. Changing Demographic and Cultural Aspects of Death
Part 2 Death and Its Aftermath
3. Where Dying Takes Place
4. Dying
5. Funeral Rituals
Part 3 Individual and Collective Death
6. Children and Death
7. Death and Destruction
Part 4 Coping with Death
8. Giving Bad News
9. The Grieving Process
10. Life After Death
Conclusion
References
'An interesting book and one which makes a useful addition to the growing body of sociological studies on death and dying.'
Sociology
'The chapters on life after death, religion and extrasensory experiences are particularly interesting and thought-provoking ... It is thought-provoking and unusual in its sociology perspective of the American experience of death and dying.'
European Journal of Palliative Care
'This volume offers a vital new statement on the study of death and dying. Professors Fontana and Keene have written an accessible, interesting text that will serve multiple disciplines and will be appreciated by students and teachers alike. Well done!'
Kathy Charmaz, Sonoma State University
'The authors are to be commended for their unusually engaging and very current treatment of the issues that should be at the core of any course on death and dying. This book is particularly well suited for the rapidly increasing number of sociological courses on death and dying, but it will also work very well in many interdisciplinary courses taught in a variety of other departments. Instructors will be able to use this book as a stand alone text or to use it as a set of core readings to be supplemented by selected readings on topics of special relevance to his or her students. Of particular note is their excellent treatment of such topics as the hospice movement, grief, assisted suicide, and various forms of euthanasia.'
John Williamson, Boston College
Takes a fresh approach to the processes and rituals surrounding death and dying in America.
Relates various elements of death and dying to economic and social inequality, and to American consumerist culture.
Covers a wide range of compelling topics such as deaths resulting from war and terrorism, children's perspectives on death and dying, beliefs in life after death and practical issues such as the disposal of the body.
Emphasizes individual experiences and personal reactions to death as well as placing mortality within wider social and theoretical frameworks.