Debating Globalization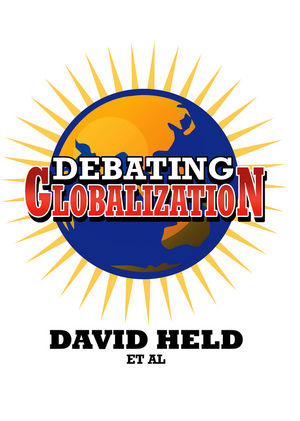 Debating Globalization
ISBN: 978-0-745-65791-2 April 2013 Polity 224 Pages
Download Product Flyer
Download Product Flyer
Download Product Flyer is to download PDF in new tab. This is a dummy description. Download Product Flyer is to download PDF in new tab. This is a dummy description. Download Product Flyer is to download PDF in new tab. This is a dummy description. Download Product Flyer is to download PDF in new tab. This is a dummy description.
Description
Debating Globalization
is a short, accessible introduction to the debate about globalization written by many of the most prominent figures in the field. Published by Polity in association with openDemocracy, the book is notable not just for focusing on the pressing difficulties facing our world, but also on solutions. Rich and positive suggestions are made for reshaping globalization into a force that will work for humans everywhere.
In an extended analysis, David Held provides a robust critique of the present order and sets out his alternative vision. Building on arguments he made in Global Covenant, he calls for a new global political agenda, informed by social democratic political values. His analysis has been criticized by leading figures and their responses follow in this book. There are chapters by, among others, Martin Wolf, Roger Scruton, Grahame Thompson, David Mepham, Meghnad Desai, Maria Livanos Cattaui, Patrick Bond, Benjamin Barber, John Elkington, Takashi Inoguchi, Narcís Serra, and Anne-Marie Slaughter and Thomas N. Hale. The volume ends with David Held's reply to his critics.

The book provides a fascinating introduction to the debate about globalization today.
Table of contents
Notes on Contributors.
Preface by Anthony Barnett and Casper Henderson.
Acknowledgements.
Introduction by Anthony Barnett and Caspar Henderson.
1. Globalization: The Dangers and the Answers.
David Held.
2. The Case for Optimism.
Martin Wolf.
3. Delusions of Internationalism.
Roger Scruton.
4. The Limits to Globalization.
Grahame Thompson.
· 5. The Far Side of Globalization.
David Mepham.
6. Social Democracy as World Panacea.
Meghnad Desai.
7. The Test of Practice.
Maria Livanos Cattaui.
8. Top Down or Bottom Up.
· Patrick Bond.
9. Globalization Reality Check.
John Elkington.
10. Three Modes of Order.
Takashi Inoguchi.
11. Globalization.
Narcis Serra.
12. Global Governance.
Anne-Marie Slaughter & Thomas N. Hale.
13. America, the UN and the World.
Kofi Annan.
14. What are the Dangers and the Answers?.
David Held.
Appendix A.
The Barcelona Development Agency.
Appendix B.
The New Human Security Doctrine.
Mary Kaldor & Marlies Glasius.
Notes.
Index
Reviews
"The essays in this volume offer spirited engagement with Held's
The Global Covenant,
which is summarised at the start of this one as the point of departure for the debate ... The line-up of contributors is unquestionably impressive and diverse, and without exception the essays are lively and well written."
Nicola Philips, Political Studies Review

"Debating Globalization assembles leading scholars to rethink the logic and consequences of globalization. Held and his colleagues wonderfully illuminate the great forces that are transforming modern life."

G. John Ikenberry, Princeton University

"This brilliant book succeeds in bringing together two major issues normally isolated in the international agenda: security and development, security and the human rights agenda. Essential reading for students and policy-makers alike."

Laurence Tubiana, Institut du développement durable, Paris

"This book should be compulsory reading for governments, researchers, and social justice activists. The contributions address what is arguably the single greatest challenge of our age: the unstable co-existence of mass poverty in the midst of global prosperity. Avoiding simple blueprints, the book makes a compelling case for a new pattern of globalization and an end to "business as usual" global governance."

Kevin Watkins, Director UNDP Human Development Report Office
Features


A short, accessible introduction to the debate over globalization, published by Polity in association with openDemocracy

Written by many of the most prominent figures in the field, including David Held, Martin Wolf and Kofi Annan.

The book follows the format of a lively debate, and thus offers sharp summaries of its authors' views.

The debate is notable not just for focusing on the pressing difficulties facing our world, but also on solutions.

Rich and positive suggestions for reshaping globalization and placing social justice at the top of the global agenda