Debating the Middle Ages: Issues and Readings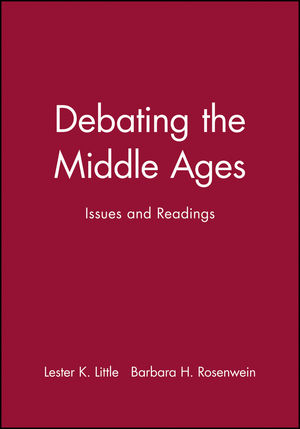 Debating the Middle Ages: Issues and Readings
ISBN: 978-1-577-18007-4
Sep 1998, Wiley-Blackwell
410 pages
Description
This collection brings together some of the most original and influential work in the field of medieval history in recent years.
Editors' Acknowledgments.
Acknowledgements of Sources.
A Note on Format.
List of Abbreviations.
Introduction.
Part I: The Fate of Rome's Western Provinces:.
1 Conceptions of Ethnicity in Early Medieval Studies: Walter Pohl.
2. The Barbarians in Late Antiquity and How They Were Accommodated in the West: Walter Goffart.
3. The Fall of Rome will not Take Place: Chris Wickham.
4. Richard Hodges and David Whitehouse, The Decline of the Western Empire: Richard Hodges and David Whitehouse.
5. Gregory of Tours and Clovis: Ian N. Wood.
6. Missionaries and Magic in Dark-Age Europe: Alexander Murray.
Part II: Feudalism and Its Alternatives:.
7. The Banal Seigneurie and the "Reconditioning" of the Free Peasantry: Pierre Bonnassie.
8. The Year 1000 without Abrupt or Radical Transformation: Domnique Barthélemy.
9. The Tyranny of a Construct: Feudalism and Historians of Medieval Europe: Elizabeth A. R. Brown.
10. Giving Each his Due: Frederic L. Cheyette.
11. Strangers and Neighbours: Monique Bourin and Robert Durand.
12. Amicitiae [Friendships] as Relationships between States and People: Gerd Althoff.
Part III: Gender:.
13. Queens as Jezebels: the careers of Brunhild and Balthild in Merovingian History: J. L. Nelson.
14. Women and the Norman Conquest: Pauline Stafford.
15. The "Cruel Mother": Maternity, Widowhood, and Dowry in Florence in the Fourteenth and Fifteenth Centuries: Christine Klapisch-Zuber.
16. Men's Use of Female Symbols: Caroline Walker Bynum.
17. Burdens of Matrimony: Husbanding and Gender in Medieval Italy: Susan Mosher Stuard.
Part IV: Religion and Society:.
18. The Evangelical Awakening: Marie-Dominique Chenu.
19. The Use and Abuse of Miracles in Early Medieval Culture: Sofia Boesch Gajano.
20. The Dead in the Celestial Book-Keeping of the Cluniac Monks around the Year 1000: Dominiques Iogna-Prat.
21. Literacy and the Making of Heresy, c. 1000-c. 1150: Robert I. Moore.
22. Folklore and Society in the Medieval West: Jean-Claude Schmitt.
Index of Persons and Places.
"Rosenwein and Little have produced an extraordinarily broad and intelligent guide to the major debates in medieval history of the past decades. Not only are the selections well chosen, but their introductions are the best surveys of contemporary medieval historiography available in any language."
Patrick J. Geary, Director, University of Notre Dame
<!--end-->
"Debating the Middle Ages will be a uniquely valuable book for beginning and advanced students, for teachers, and for scholars. By prefacing reprints or translations of important recent articles on four broad problems in medieval history with lucid, well-annotated analyses of how debates on each of the four problems has proceeded, Little and Rosenwein provide a superb introduction to the ways in which historians today are studying, arguing about, and reinventing medieval European history." Stephen D. White, Professor of Medieval History

"Little and Rosenwein have assembled an impressive selection of essays, incorporating some of the most original and influential recent works in the field of medieval history." Economic History Review

"Compilations such as this one will ensure that medieval studies remain intellectually vibrant by encouraging students of the subject to reflect critically upon the forces and ideas that have shaped, and continue to shape, the discipline ... I believe it will prove to be an indispensable tool for both teachers and students in the future." Comitatus
* Comprises work from leading international scholars examining four major historical themes.
* Includes several pieces translated into English for the first time.
* Designed for student use with extensive editorial introduction and explanatory notes.