Debt Repair Kit For Dummies®, Australian Edition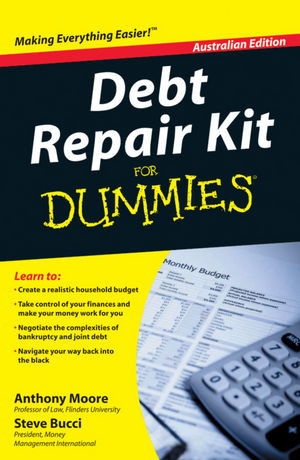 Debt Repair Kit For Dummies®, Australian Edition
ISBN: 978-1-742-16941-5
May 2010
240 pages
Product not available for purchase
Description
All the tools you need to get your finances back on track
Are you seeking straightforward advice on how to avoid debt and establish a good credit standing? With this book, you discover how to dispute inaccurate information in your credit report, communicate with debt collectors, set financial goals and build a good credit history, as well as how to detect and avoid scams and identity theft.
Check your credit report - find out how to obtain your credit report and correct any mistakes
Establish a strong credit standing - build up a credit history with the financial services sector
Negotiate with debt collectors - understand how you can reach an arrangement that satisfies both you and your creditors
Find expert and independent guidance - seek help from a financial counsellor who can help you overcome your money problems
Manage your finances effectively - learn how to set financial goals, use credit
Visit the companion website at www.wiley.com/go/ debtrepairkitfd for a guide to the legislation that protects consumers; letters to the Australian credit reporting agency, creditors, banks and more; and forms and worksheets, including financial calculators and budgeting tools.
Introduction.
Part I: Taking Stock of Your Credit Situation.
Chapter 1 : The Lowdown on Credit Essentials: Just What You Need to Know.
Chapter 2 : Credit Pleasure and Pain.
Chapter 3 : Understanding the Laws Governing Your Credit Contract.
Chapter 4 : Yours, Mine and Ours: Involving Others in Your Finances.
Part II: Landmarks of the Credit System.
Chapter 5 : Discovering Your Credit Standing.
Chapter 6 : Dealing with Identity Theft.
Chapter 7 : Your Right to Privacy and Consumer Protection.
Part III: Getting Through Tough Times.
Chapter 8 : Dealing With Debt Payment Demands.
Chapter 9 : Risking Your Home and Possessions.
Chapter 10 : Protecting Yourself When You Can't Pay.
Chapter 11 : Coping Financially at Life's Crossroads.
Part IV: Taking Control of Your Finances.
Chapter 12 : Who Can You Turn To?
Chapter 13 : Reorganising Your Debts and Credits.
Chapter 14 : Budgeting for Your Future.
Part V: The Part of Tens.
Chapter 15 : Ten Tips to Avoid Identity Theft or Reduce Its Damage.
Chapter 16 : Ten Ways to Keep Your Home from a Mortgagee Sale.
Chapter 17 : Ten Ways to Make Your Credit the Best It Can Be.
Chapter 18 : Ten Ways to Successfully Manage Financial Emergencies.
Appendix A: Glossary.
Appendix B: About the Website.
Index.