Decision-Making Style Inventory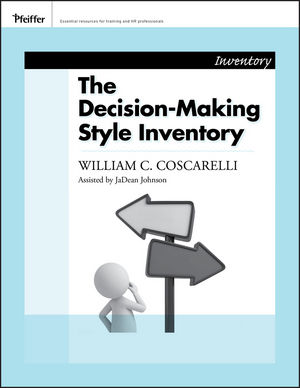 Decision-Making Style Inventory
ISBN: 978-0-787-98839-5 August 2007 Pfeiffer 16 Pages
Description
The most recent research into decision-making suggests that the most effective leaders are the ones who are able to adapt their decision-making style over time as their roles and responsibilities change. Discover a proven, easily understandable way to assess decision-making style with the Decision?Making Style Inventory.

The Decision-Making Style Inventory is a validated and reliable 20-item Likert assessment that identifies an individual's decision-making style preference. The assessment measures four dimensions. Two structural styles--Systematic and Spontaneous, and two processing styles--Internal and External. In this Inventory the two dimensions are combined to find a preferred decision-making style: Systematic-Internal, Systematic-External, Spontaneous-Internal, and Spontaneous-Eternal, plotted on a four-quadrant chart. The Inventory is a powerful tool that can be used in numerous developmental situations such as formal leadership training, coaching, and even performance appraisals.
Buy Both and Save 25%!
Original Price:$41.95
Purchased together:$31.46
save $10.49
Cannot be combined with any other offers.
ACKNOWLEDGMENTS.
PLEASE READ ME FIRST!
BACKGROUND FOR THE DECISION-MAKING STYLE INVENTORY AND WORKSHOP.
INTRODUCTION TO THE FACILITATOR GUIDE.
OVERVIEW OF DMSI THEORY.
DEVELOPMENT OF THE DECISION-MAKING STYLE THEORY.
DEVELOPMENT OF THE DECISION-MAKING STYLE INVENTORY.
ABOUT THE DECISION-MAKING STYLE INVENTORY.
ADMINISTERING AND SCORING THE INVENTORY.
PREPARING FOR A WORKSHOP SESSION.
CONDUCTING THE WORKSHOP: UNDERSTANDING UN-UNDERSTANDABLE PEOPLE.
Welcome and Objectives.
Administer the DMSI.
Introducing the Styles.
Scoring the DMSI.
Break.
Treasure Hunters and Detectives.
Implications of the Decision-Making Styles.
Strengths and Liabilities.
Putting the Styles to Use.
REFERENCES.
Appendix A: Description of the Workshop.
Appendix B: Thumbnails of Slides.
Appendix C: Instruction for Scoring the DMSI.
ABOUT THE AUTHORS.
HOW TO USE THE CD-ROM.