Decisions and Organizations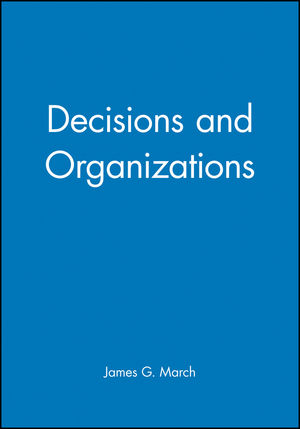 Decisions and Organizations
ISBN: 978-0-631-16856-0 January 1991 Wiley-Blackwell 468 Pages
Description
This book collects together for the first time over 20 of James March's key essays, including those co-authorised with R.M. Cyert and J.P. Olsen and others. The coverage ranges from his early work on the behavioural theory of the firm, through conflict and adaptive rules in organizations, to decision-making under ambiguity (including the famed 'garbage can' model).
* Previously unpublished lectures by the inspirational leader in organizational theory, James March.
* Uses great works of literature to explore the problems of leadership, for example 'War and Peace', 'Othello', and 'Don Quixote'.

* Presents moral dilemmas related to leadership, for example the balance between private life and public duties, and between the expression and control of sexuality.

* Encourages readers to explore ideas that are subversive, unpalatable, and may not work in the short term.

* Suggests that today's leaders are more likely to be motivated by the desire to change the world, than by financial rewards or the lure of promotion.