Decline in History: The European Experience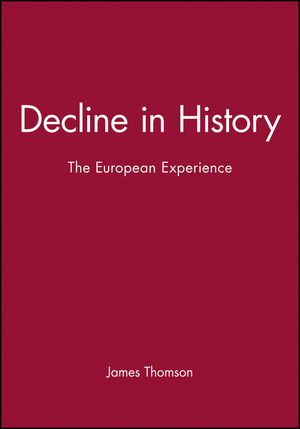 Decline in History: The European Experience
ISBN: 978-0-745-61425-0 January 1999 Polity 240 Pages
Description
The study of decline in history deserves as much attention as progress, and yet there are very few comparative studies available. This book fills that gap. Drawing on the works of Immanuel Wallerstein, Fernand Braudel, Michael Mann and Jonathan Israel to inform his approach, Thomson examines the experience of decline in history with particular reference to Europe. He argues that the history of Afro-Asian and European civilizations has been characterized by a slow diffusion of cultural and technical skills which has occasioned repeated cycles of progress and decline. The European variant of this dynamic was shaped by its unique qualities of political pluralism and economic dynamism, resulting in declines that were 'micro' rather than 'macro' in character.


Thomson develops his argument through a structured narrative of economic and technical change in European history from the fall of Rome and the decline of Byzantium to Italy's declines and to those of Portugal and Spain. Within Spain, the decline of Castile is distinguished from those of Andalucia and Aragon; Thomson shows that the final decline of Andalucia and Aragon in the seventeenth century, rather than being a specifically Spanish crisis, was part of a general upheaval affecting the whole of the western Mediterranean and much of central Europe.


Wide-ranging and clearly written, Decline in History will be an invaluable text for students of European and comparative history.
Preface.
Introduction.
1. Braudel's Mediterranean.
2. 'World Economy' and 'World Time'.
3. The 'Rise' of Europe.
4. Byzantium: Declines in the Transition from Antiquity to the Middle Ages.
5. Italian Declines.
6. Iberian Declines.
7. Decline in European History.
Notes.
Index.
"James Thomson's
Decline in History
offers an original approach to its subject, combining boldness in conception with care in execution and a lucid exposition with the capacity to draw distinctions wherever they are necessary. The author, a well-known specialist on Mediterranean history, is clearly in command of his material, he is analytic and comparative, and his conclusions are as fresh as they are judicious. This is an ideal book to set students thinking."
Professor Peter Burke, Emmanuel College, Cambridge
<!--end-->"This is an unusual and challenging book. James Thomson has chosen to study what to many will seem an unfashionable theme - economic decline - and his approach is ambitiously broad and comparative, from the great ancient empires, via Byzantium to Italy, Portugal and Spain. His study will be of undoubted value to university students through his clear outline of the main theses of historians and social scientists with a comparative approach, in particular Braudel, Wallerstein, Jonathan Israel and Michael Mann, but equally through his valuable discussion of why the different Italian and Iberian economies declined." Stuart Woolf, Università ca'Foscari de Venezia

"His thesis is a bold one and will not commmand universal assent, but the theory is certainly stimulating and Thomson's contribution to discussion over decline is much to be welcomed." Jeremy Black, University of Exeter

"Thomson's theory is certainly stimulating, and his contribution to discussion over decline is much to be welcomed". Jeremy Black, University of Exeter, Brill's journals
* An introductory and comparative textbook which examines the decline of history.
* Focuses primarily on the decline of European Civilizations from the Ancient world to the present day.
* Includes several detailed case-studies such as chapters on Ancient Rome, Byzantine, Spain and Portugal.