Decoding the Genomic Control of Immune Reactions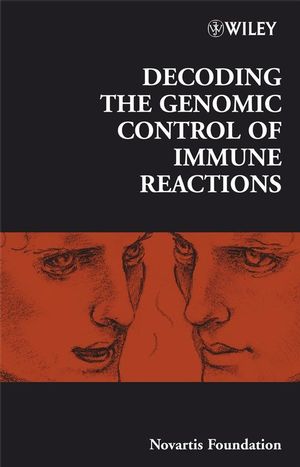 Decoding the Genomic Control of Immune Reactions
ISBN: 978-0-470-06211-1
Apr 2007
232 pages
Description
This book explores existing and potential strategies for using the genome sequences of human, mouse, other vertebrates and human pathogens to solve key problems in the treatment of immunological diseases and chronic infections.  The assembled genome sequences now provide important opportunities for solving these problems, but a major bottleneck is the identification of key sequences and circuits controlling the relevant immune reactions. This will require innovative, interdisciplinary and collaborative strategies of a scale and complexity we are only now beginning to comprehend.

Specific problems addressed include the following:
What kinds of information are we lacking to understand how the genome sequence specifies the differentiation and response of immune system cells, and system behaviour such as immunological memory and tolerance?
Which genome sequences and cellular circuits cause or prevent pathological immune responses to foreign pathogens, allergens or self-tissues?
Which host and pathogen genome sequences and cellular circuits explain the failure of sterilizing immune responses to sophisticated human pathogens such as the agents of tuberculosis, malaria, metazoan parasites and chronic viruses?
Containing contributions from a range of leading experts in the field, this book provides an important new perspective for clinical immunologists and basic researchers alike.
Introduction (
Chris Goodnow)
.
Transcriptional regulatory networks in macrophages. (David A. Hume, Christine A. Wells and Timothy Ravasi).
Discussion.
The RIKEN mouse transcriptome: lessons learned and implications for the regulation of immune reactions (Christian Schönbach).
Discussion.
Molecular pathways for lymphangiogenesis and their role in human disease (Steven A. Stacker, Rae H. Farnsworth, Tara Karnezis, Ramin Shayan,.
Darrin P. Smith, Karri Paavonen, Natalia Davydova, Carol Caesar,.
Rachael Inder, Megan E. Baldwin, Bradley K. McColl, Sally Roufail,.
Richard A. Williams, Richard A. Hughes, Kari Alitalo and.
Marc G. Achen).
Discussion.
General discussion I.
Specifying the patterns of immune cell migration (Jason G. Cyster).
Discussion.
Human monogenic disorders that confer predisposition to specifi c infections (Capucine Picard, Laurent Abel and Jean-Laurent Casanova).
Discussion.
The genetic control of susceptibility to Mycobacterium tuberculosis (W. J. Britton, S. L. Fernando, B. M. Saunders, R. Sluyter and J. S. Wiley).
Discussion.
Th2 lymphoproliferative disorders resulting from defective LAT signalosomes (Bernard Malissen, Ying Wang, Michael Mingueneau and Marie Malissen).
Discussion.
Genetic analysis of systemic autoimmunity (Carola G. Vinuesa and Matthew C. Cook).
Discussion.
Genetic resistance to smallpox: lessons from mousepox (Gunasegaran Karupiah, Vijay Panchanathan, Isaac G. Sakala and Geeta Chaudhri).
Discussion.
The AcB/BcA recombinant congenic strains of mice: strategies for phenotype dissection, mapping and cloning of quantitative trait genes (Anny Fortin, Eduardo Diez, Janet E. Henderson, Jeffrey S. Mogil, Philippe Gros and Emil Skamene).
Discussion.
Genetic control of host–pathogen interactions in mice (Gundula Min-Oo, Mary M. Stevenson, Anny Fortin and Philippe Gros).
Discussion.
Mycobacterium tuberculosis and its ability to resist immunity (Douglas Young and Anne O'Garra).
Discussion.
Systems genetics: the next generation in genetics research? (Grant Morahan and Robert W. Williams).
Discussion.
Regulation of the immune system in metazoan parasite infections (Rick Maizels).
Discussion.
Closing remarks (Chris Goodnow).
Contributor Index.
Subject Index.
""…useful to…researchers and clinicians with a particular interest in pathways of regulation."" (Doody's Health Services)