Decolonization and its Impact: A Comparitive Approach to the End of the Colonial Empires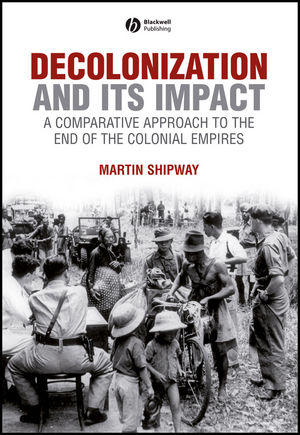 Decolonization and its Impact: A Comparitive Approach to the End of the Colonial Empires
ISBN: 978-0-631-19968-7 January 2008 Wiley-Blackwell 290 Pages
Description
Decolonization and its Impact
is a ground-breaking comparative study of decolonization from before the Second World War to the early 1960s.
Compares key cases across the European colonial empires
Focuses on the process and impact of decolonization at the level of the 'late colonial state' and of colonial societies
Presents an original model of decolonization that seeks to reconcile imperial and nationalist perspectives
Engages with important theoretical approaches
Makes extensive reference to recent literature on the subject
Table of contents
Acknowledgements.
Maps.
Introduction: Decolonization in Comparative Perspective.
1 The Colonial State: Patterns of Rule, Habits of Mind.
2 Colonial Politics Before the Flood: Challenging the State, Imagining the Nation.
3 The Second World War and the 'First Wave' of Decolonization.
4 Imperial Designs and Nationalist Realities in Southeast Asia, 1945–1955.
5 Shifting Frameworks for Change: The Late Colonial State in Africa.
6 The Late Colonial State at War: Insurgency, Emergency and Terror.
7 Towards Self-Government: Patterns of Late Colonial African Politics, 1951–1957.
8 Wind of Change: Endgame in Colonial Africa, 1958–64.
9 Conclusion: The Impact of Decolonization.
Appendix: Dates of Independence of African States.
Bibliography.
Index
Reviews
"Decolonization and its Impact provides a well-written survey of mid-twentieth century decolonization. Shipway's expertise in the French experience of this period is self-evident and, with Madagascar and Sudan, he has focused on case studies which are often overlooked in works of this kind. The book is based on an extensive bibliography, and while not dramatically re-casting existing historical explanations, it will make a welcome addition to undergraduate reading lists on decolonization." (South African Historical Journal, July 2010)
"[The] book represents a notable accomplishment, a feat of stylish synthesis and compression which will inject still greater energy into an already vigorous debate." (H-Soz-u-Kult, June 2010)
"This book offers both original insights and a meticulous engagement with the existing historiography on the subject." (
The American Historical Review, February 2010)
"It provides a much needed comparative review of European decolonization, grounded in a thorough survey of the most recent literature on the subject ... .A rich, insightful and deeply rewarding survey of decolonization." (The International History Review, December 2009)
"The scope of the account is global ... with an admirable combination of detail and attention to broad historic trends. Recommended." (CHOICE)
Features


A ground-breaking comparative study of decolonization from before the Second World War to the early 1960s

Compares key cases across the European colonial empires

Focuses on the process and impact of decolonization at the level of the 'late colonial state' and of colonial societies

Presents an original model of decolonization that seeks to reconcile imperial and nationalist perspectives

Engages with important theoretical approaches

Makes extensive reference to recent literature on the subject