Deep Focus: Devotions for Living the Word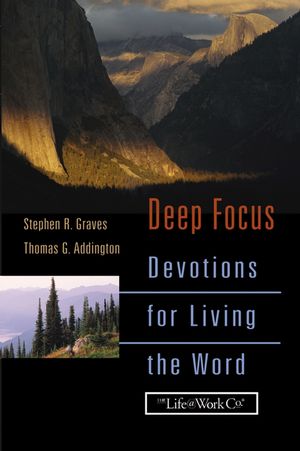 Deep Focus: Devotions for Living the Word
ISBN: 978-0-787-96477-1
Dec 2003, Jossey-Bass
384 pages
Product not available for purchase
Description
Using the letters of the apostles from the New Testament, this collection of 250 inspirational reflections helps readers integrate faith with the realities of life at work and at home. Both highly practical and deeply spiritual, Deep Focus offers the guidance you need to grow in your faith and understanding by combining timeless biblical wisdom with real-world interpretation and reflection.
Introduction.
Part One: Romans: The Heart of the Gospel.
Part Two: 1 Corinthians: Order in the Church.
Part Three: 2 Corinthians: Sad History of a Brief Revolt.
Part Four: Galatians: Living Free.
Part Five: Ephesians: Higher Ground.
Part Six: Philippians: Perpetual Rejoicing and Thankfulness.
Part Seven: Colossians: Christ Is Supreme.
Part Eight: 1 and 2 Thessalonians: Jesus Is Coming Again.
Part Nine: 1 and 2 Timothy and Titus: A Manual for Christian Leaders.
Part Ten: Philemon: A Repentant Runaway Comes Home.
Part Eleven: Hebrews: Moving from Good to Better.
Part Twelve: 1 and 2 Peter: A Letter to Suffering Believers.
Part Thirteen: 1, 2, and 3 John: Letters from a Very Old Man.
Part Fourteen: Jude: Apostasy Unmasked.