Defending the West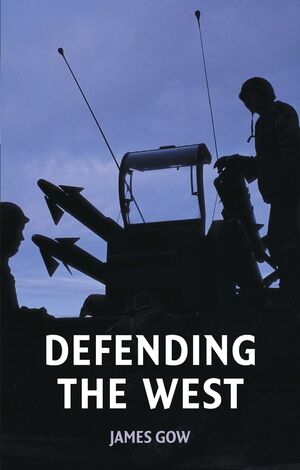 Defending the West
ISBN: 978-0-745-63234-6
Dec 2004, Polity
176 pages
Description
What is the West? Why does it need to be defended? From what, by whom, and how? These are thorny questions that international society must grapple with in order to meet the security challenges of the 21st Century. This little book provides answers to these questions. In it, James Gow sends out a clarion call for a radical re-interpretation of the right of self-defence within the terms of international law and international politics.

The world is a wonderful, but dangerous place. There are any number of threats to peace and security, ranging from new forms of terrorism and the proliferation of weapons of mass destruction to environmental degradation, famine and disease. Defending the West matters to everyone, regardless of colour, creed, or nationality. It matters to those who are seeking to destroy it as much as it does to those seeking to protect it. Defence of the West requires pre-emptive action, but it cannot be undertaken on a unilateral basis and outside the law. Instead of outlawing pre-emptive action, we must acknowledge that it is necessary and ensure that it can be taken in a framework of partnership and legitimacy.
Preface.
Abbreviations.
Chapter 1 Introduction.
The Question of Pre-emption: Real Need or Dangerous Fantasy?.
Defining the West: Delineating the West.
Defining the West: Defending the West.
The Book.
Chapter 2 Theory.
Realism and the Rest.
Constructivist Realism.
Chapter 3 Order.
The Post-Cold War Sovereignty Revolution.
Stratified Stability: From Disorder to Order.
Layering Stability: the Evolution of the Sovereign State System.
Stratifying Stability: Borders and Beyond.
Chapter 4 Threats.
Physical Threats.
Stability Threats.
Chapter 5 Alliance.
The Evolutionary Alliance.
The Alliance Transformed.
The European Dimension: Invention, Illusion and the Indispensable.
The Euroatlantic Order.
US Leadership, European Capability and Responsible Action.
Chapter 6 Partnership.
Productive Partnership and Constructive Engagement.
Partnership, Engagement and Stability.
Strategic Flexibility:Operational and Political.
Chapter 7 Pre-Emption.
Iraq 2003: the Basis for Action and the Shadow of Pre-Emption.
New Bearings in Self-Defence for the Twenty-First Century: the Need for Pre-Emption.
Intelligence, Legitimacy and the Boundaries of the Self-Defence Revolution.
Conclusion.
Notes.
Bibliography.
Index
'If, as I believe, there is no more important task in international relations in the 21st century than re-joining the imperatives of strategy with the legitimating structures of law, then
Defending the West
is a very important work indeed. Rich and accessible, it charts the way forward.'
-- Philip Bobbitt, A.W. Walker Centennial Chair in Law

'A provocative case for extending the concept of self-defence in international relations to include pre-emptive armed action. Based on a reasoned argument about the changed global security situation, it deserves attention even those who are sceptical of Western military action.'

-- Martin Shaw, University of Sussex