Demanding the Impossible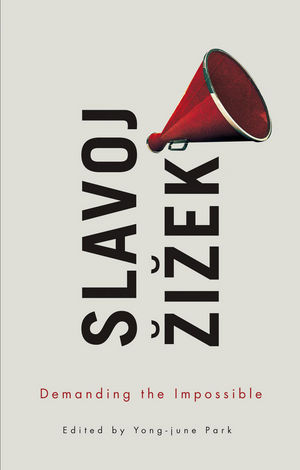 Demanding the Impossible
ISBN: 978-0-745-67228-1
Oct 2013
160 pages
Description
Where are we today and what is to be done? Slavoj ?i?ek ponders these questions in this unique and timely book.  Based on live interviews, the book captures ?i?ek at his irrepressible best, elucidating such topics as the uprisings of the Arab Spring, the global financial crisis, populism in Latin America, the rise of China and even the riddle of North Korea.  ?i?ek dazzles readers with his analyses of Hollywood films, Venezuelan police reports, Swedish crime fiction and much else. Wherever the conversation turns, his energetic mind illuminates unexpected horizons.

While analyzing our present predicaments, ?i?ek also explores possibilities for change. What sort of society is worth striving for? Why is it difficult to imagine alternative social and political arrangements? What are the bases for hope? A key obligation in our troubled times, argues ?i?ek, is to dare to ask fundamental questions: we must reflect and theorize anew, and always be prepared to rethink and redefine the limits of the possible.

These original and compelling conversations offer an engaging and accessible introduction to one of the most important thinkers of our time.
Acknowledgements
1) Politics and Responsibility
2) Obsession for Harmony / Compulsion to Identify
3) Politicization of Ethics
4) Means Without End: Political Phronesis
5) "May you live in interesting times"
6) Communism The Ethico-political Fiasco
7) Who is Afraid of a Failed Revolution?
8) Another World is Possible
9) For They Know Not What They Do
10) Parallax View on Post-modern Globalization
11) The Public Use of the Scandal
12) The Screen of Politeness / Empty Gestures and Performatives
13) Deadlock of Totalitarian Communism
14) The Subversive Use of Theory
15) Becoming Proletarian Position
16) New Forms of Apartheid
17) Intrusion of the Excluded into the Socio-Political Space
18) Rage Capital and Risk-Taking Revolutionary Changes
19) Café Revolution
20) To Begin from the Beginning
21) The Fear of Real Love
22) Dialectic of Liberal Superiority
23) The Day After
24) The Universality of Political Miracles
25) Messianism, Multitude, and Wishful Thinking
26) Politicization of Favelas
27) Bolivarianism, the Populist Temptation
28) Violent Civil Disobedience
29) Legitimacy of Symbolic Violence
30) Gandhi, Aristide, and Divine Violence
31) No Moralization But Egotism
32) Possibility of Concrete Universality
33) Common Struggle for Freedom
34) The Impossible Happens
""Zizek is, in fact, the most formidably brilliant exponent of psychoanalysis, indeed of cultural theory in general, to have emerged from Europe in several decades.""
Terry Eagleton

""Zizek is to today what Jacques Derrida was to the '80s: the thinker of choice for Europe's young intellectual vanguard.""
The Observer
Slavoj Zizek is one of the world's most widely read and controversial philosophers and social critics.
This book is an extended conversation with Zizek that covers a range of topical issues in contemporary politics and current affairs such as global warming, the financial crisis, Hugo Chavez's ""Bolivarian Revolution"", and the Arab Spring.
Zizek argues that the key theoretical and political challenge for us today is to be willing to question accepted truths and constantly seek to rethink and redefine the limits of the possible.
This book will be of great interest to students and scholars across the humanities and social sciences as well as to general readers and activists.