Dementia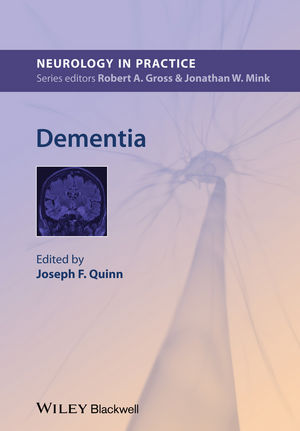 Dementia
ISBN: 978-1-118-65619-8
Oct 2013, Wiley-Blackwell
192 pages
Description
Dementia is a devastating diagnosis for patients
Dementia comes in many forms that can be hard to differentiate. Arriving at an accurate diagnosis without subjecting an already wary patient to unnecessary tests requires clinical acumen. Identifying the correct dementia, and determining a probable prognosis, allows agreement on appropriate management and care with patients and their carers.

But how much testing is needed? What do the tests tell you? What management options are available?
Dementia provides a progressive approach to help you identify and manage the many forms of this complex and devastating disease. Dr Quinn has assembled a team of expert neurologists and gerontologists to provide the foundation knowledge you need to develop the clinical wisdom for effective dementia care. Dementia clearly explains the diagnosis, investigations and management for
Normal pressure hydrocephalus
Mild cognitive impairment
Alzheimer's disease
Vascular dementia
Dementia with Lewy bodies
Fronto-temporal dementia
Clinical in approach, practical in execution, Dementia helps you diagnose and treat your patients more effectively.
Contributors vii
Series Foreword ix
Preface xi
Chapter 1 Diagnosis and Differential Diagnosis of Dementia 1
Richard Camicioli
Chapter 2 Rapidly Progressive Dementia and its Mimics 15
Amy May Lin Quek and Andrew McKeon
Chapter 3 Young Onset Dementia: How Much Diagnostic Testing is Enough? 35
Anahita Adeli and Keith A. Josephs
Chapter 4 An Approach to the Problem of Normal Pressure Hydrocephalus 55
Norman Relkin
Chapter 5 Depression: Cause or Complication of Cognitive Decline? 67
David Mansoor, Sahana Misra, and Linda Ganzini
Chapter 6 Mild Cognitive Impairment 77
Ranjan Duara, David A. Loewenstein, Clinton Wright, Elizabeth Crocco, and Daniel Varon
Chapter 7 After the Diagnosis: Continuing Neurological Care of the Outpatient with Dementia 97
Anne M. Lipton
Chapter 8 Using Psychotropic Medications to Manage Problem Behaviors in Dementia 111
Lucy Y. Wang and Murray A. Raskind
Chapter 9 Palliative Care in Advanced Dementias 121
Ira Byock and Cory Ingram
Chapter 10 Ethical, Legal, and Social Issues in Dementia 137
Amy Y. Tsou and Jason Karlawish
Chapter 11 Assessing Outcomes in Dementia Care 151
Joel Mack, Amie Peterson, and Joseph Quinn
Chapter 12 Primary Prevention of Dementia 163
Joseph Quinn
Index 171
"This is an excellent overview of the differential diagnosis and treatment of patients with dementia. It provides practical tips to guide clinicians through the initial diagnosis, current treatment options, and long-term complexities of caring for patients with cognitive decline. The information is presented in a clinically relevant and concise manner. With further advances in neuroimaging, disease markers, and, hopefully, treatment options, more books like this will be needed to provide clinicians with up-to-date reviews of current practice guidelines." (Doody's, 13 February 2015)
""The tone is practical, not academic, with authors offering assistance on what might be done and what should be avoided."" (European Journal of Nuclear Medicine Molecular Imaging 2015)
The tone is practical, not
academic, with authors offering assistance on what might be
done and what should be avoided.