Democracy and Civil Society in the Third World: Politics and New Political Movements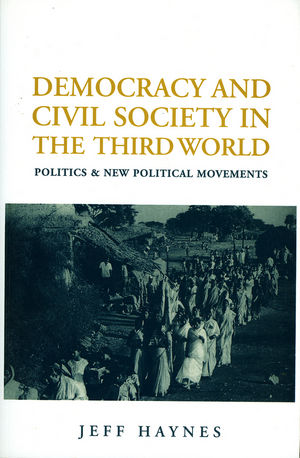 Democracy and Civil Society in the Third World: Politics and New Political Movements
ISBN: 978-0-745-66696-9
Jun 2013, Polity
224 pages
Description
This book provides an accessible account of popular political, social and economic movements in the Third World. Focusing on poor and marginalized groups within developing countries, it shows how these groups have been stimulated into action by recent demands for political and economic change.
Haynes describes the growing interest in democratic change in the Third World during the 1980s and 1990s, and argues that demands for democracy, human rights and economic change were a widespread catalyst for the emergence of hundreds of thousands of popular movements in Latin America, Africa and Asia. Sometimes these took the form of demands for more political representation and greater economic development; others were concerned with environmental protection, the broad position of women and the establishment of Islamic states and societies.
Haynes argues that these emerging popular organizations are best regarded as building blocks of civil society that, in time, will enhance the democratic nature of many political environments in the Third World.
The book will be welcomed by students and researchers in development studies, politics and sociology.
List of Tables.
Preface.
1. Introduction.
2. Action Groups in Regional Focus.
3. Macroeconomic Decline and Action Groups.
4. Democracy and Indigenous Peoples.
5. Environmental Protection.
6. Women and Empowerment.
7. Islamist Action Groups.
8. Conclusion.
Notes.
Bibliography.
Index.
"In this thoughtful book, Haynes focuses on what is clearly a significant but hitherto relatively neglected recent trend in Third World societies - the spread of 'action groups'. He usefully brings together evidence of group activity across the range of Third World regions, social bases and issues. While careful neither to romanticize nor to overgeneralize, he shows how these groups not only constitute a strengthening of civil society but have the potential to contribute to a deepening of democracy."
Dr Vicky Randall, University of Essex
"A useful introduction to the study of civil societies in the Third World and as such, will almost certainly be added to reading lists on university courses on Third World politics and democratisation studies." Journal of Development Studies
* A highly accessible account of the rise of contemporary popular political, social and economic movements in the Third World.
* Examines the widespread emergence of popular movements in Latin America, Africa and Asia, arguing that these groups developed from a growing interest in democratic change during the 1980s and 1990s.
* A systematic survey of new forms of protest and political action: a vital resource for students of Third World Politics.