Democracy and Complexity: A Realist Approach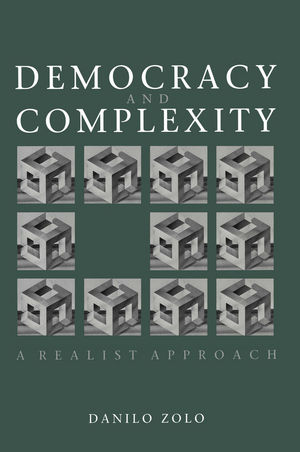 Democracy and Complexity: A Realist Approach
ISBN: 978-0-745-66931-1 July 2013 Polity 214 Pages
Description
This book is a highly original and provocative contribution to democratic theory. Zolo argues that the increasing complexity of modern societies represents a fundamental challenge to the basic assumptions of the Western democratic tradition and calls for a reformulation of some of the key questions of political theory.
Zolo maintains that, as modern societies become more complex and more involved in the `information revolution', they are subjected to new and unprecedented forms of evolutionary stress - as manifested, for instance, in the growing autonomy and power of political parties, and in new kinds of political communication which create and sustain the fiction of consensus. These forms of stress have become so serious that they threaten to undermine some of the values traditionally associated with democracy, such as the rationality and autonomy of the individual, and the visibility and accountability of power.
Table of contents
Preface.
Acknowledgements.
1. Some General Assumptions.
2. Complexity and Political Theory.
3. Complexity and Democratic Theory.
4. The Evolutionary Risks of Democracy.
5. The Principality of Communication.
6. Conclusion: Toward a Realist Theory of Democracy.
Select Bibliography.
Index of Subjects.
Index of Names.
Reviews
'Pluralist democracy has become the only respectable political practice to survive to the end of the twentieth century. But at the same time... the intellectual foundations of democratic theory seem shakier than ever. After performing a skilful act of demolition on the legitimating arguments of both classical and neo-classical democratic theory, the author concludes his own revision of democratic revisionism with views that are surprisingly reminiscent of the founding fathers of modern political theory, such as Machiavelli and Hobbes. His fascinating and highly provocative treatise on modern politics, in which Zolo attributes special significance to the media of mass communication, leaves the reader with a sense of 'democratic melancholy' as well as the challenge to find an intellectually respectable way out of the ruins of democratic theory.'
Claus Offe
'... the most sustained and effective attack on orthodox democratic theory published in recent years ... a powerful antidote to liberal democratic complacency.' Times Higher Education Supplement
'Zolo's critique is powerful and based on a comprehensive reading of contemporary democratic theory. Fascinating book.' Government and Opposition
What's New
* Zolo develops a set of proposals in an attempt to renew democratic values as a contribution to a fundamental reform of Western political systems. * Danilo Zolo is the author of many other books and articles in the area of political philosophy. * The book adopts a realist approach to politics and democracy according to the European realist tradition.