Democracy and Development: Theory and Practice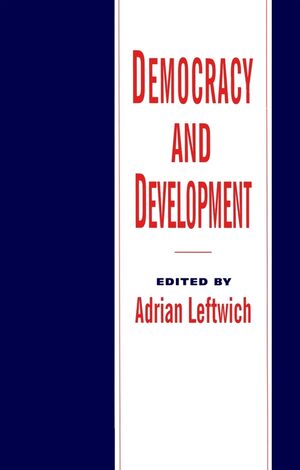 Democracy and Development: Theory and Practice
ISBN: 978-0-745-61267-6
Jan 1996, Polity
320 pages
Description
This book calls into question the current western orthodoxy about the relationship of democracy and development, exploring the theoretical issues involved in the relationship and examining a number of case sudies.
List of Tables.
Notes on the Contributors.
Part I: Theory and Controversy. .
1. On the Primacy of Politics in Development: A. Leftwich.
2. Toward a Theory of Developmental Democracy: R. L. Sklar.
3. Democracy and Development: A Statistical Exploration: S. Ersson and J.-E. Lane.
4. Governance, Democracy and Development: A Contractualist View: G. Hawthorn and P. Seabright.
Part II: Case Studies. .
5. Development, Democracy and Civil Society in Botswana: J. D. Holm.
6. Dilemmas of Democratic Development in India: S. Kaviraj.
7. A Circle of Paradox: Development, Politics, and Democracy in South Korea: C. Moon and Y. C. Kim.
8. Chile: Democracy and Development in a Divided Society: J. Pearce.
9. South Africa: Democracy and Development in a Post-apartheid Society: T. Lodge.
10. Development and Democratization in China: G. White.
11. Democracy without Development in the South Pacific: P. Larmour.
12. Has Democracy Failed Russia?: P. Rutland.
Part III: Conclusion. .
13. Two Cheers for Democracy? Democracy and the Developmental State: A. Leftwich.
Index.
"A valuable contribution to comparative analysis ... it is a pleasure to find a rare edited book which amounts to appreciably more than the sum of its individual chapters."
Political Studies

"This volume is an important contribution to the debate." Development and Change
* This book contains specially commissioned chapters by leading experts on economic development in the Third World.
* Leftwich examines and assesses the key conditions of economic development and takes a critical look at the role of democracy.
* This authoritative volume is a major contribution to the discipline.