Democracy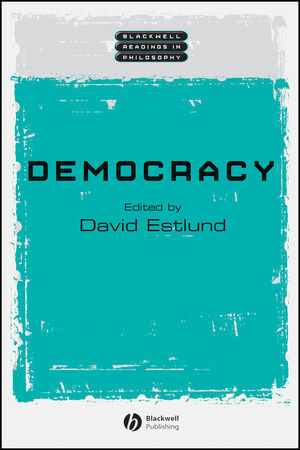 Democracy
ISBN: 978-0-631-22104-3 January 2002 Wiley-Blackwell 352 Pages
Description
Democracy brings together some of the most sophisticated thinking on democratic theory in one concise volume. Written by experts in the field, these contemporary readings are distinctively philosophical, but will appeal to students in historical, empirical, legal, or policy- oriented disciplines which deal with democratic theory.
Table of contents
Acknowledgements.
Introduction: David Estlund.
Part I: Procedural Fairness:.
1. Democracy as Equality: Thomas Christiano.
2. The Constitutional Conception of Democracy: Jeremy Waldron.
Part II: Ideal Deliberation:.
3. Deliberation and Democratic Legitimacy: Joshua Cohen.
4. Deliberative Politics: Jurgen Habermas.
Part III: Wise Decisions:.
5. Open Government and Just Legislation: William Nelson.
6. A Theory of Political Fairness: Charles Beitz.
Part IV: Deliberation and Institutions:.
7. Political Quality: David Estlund.
8. Difference as a Resource for Democratic Communication: Iris Young.
Part V: Why Vote?:.
9. Toward a Democratic Morality: Geoffrey Brennan and Loren Lomasky.
10. A Causal Responsibility Approach to Voting: Alvin Goldman.
Part VI: Formal Models and Normative Theory:.
11. Deliberative Democracy and Social Choice: David Miller.
12. Rousseau's General Will: A Condorcetian Perspective: Bernard Grofman and Scott Feld..
Bibliography.
Index.
Reviews
"...a remarkable collection of recent philosophical reflections on democracy in the Anglo-American analytic tradition."
Laurence Piper
,
Theoria
"David Estlund has put together an outstanding collection of philosophical essays about democracy. Estlund's choices are wise, his organization is illuminating, and his introduction alone is worth the price of admission." Joshua Cohen, Massachusetts Institute of Technology <!--end-->

"An absolutely first-rate collection, valuable for teachers and students alike. This is an unsurpassed introduction to, and overview of, the very best contemporary thought on the democratic idea." Cass Sunstein, University of Chicago
Features


Offers an accessible introduction to democratic theory through key contemporary readings.


Features distinctively philosophical readings on democracy.


Contains a comprehensive introduction and provides suggestions for further reading.