Demystifying Grant Seeking: What You Really Need to Do to Get Grants, 2nd Edition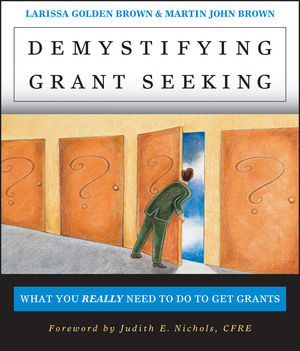 Demystifying Grant Seeking: What You Really Need to Do to Get Grants, 2nd Edition
ISBN: 978-0-787-95650-9 September 2001 Jossey-Bass 272 Pages
Description
Demystifying Grantseeking is an inspirational and instructional guide to grantseeking. The authors--successful grantseekers in their own right--show you how to overcome the common fears fundraisers often experience and offer sound, practical advice to successful grantseeking. The book provides you with a systematic and logical way of searching for grants, and helps to identify which foundations to approach so fundraisers don't waste time on dead-end proposals.
Buy Both and Save 25%!
Original Price:$84.95
Purchased together:$63.71
save $21.24
Cannot be combined with any other offers.
Foreword by Judith E. Nichols, Ph.D., CFRE.

PROLOGUE: GET INSPIRED AND READY TO GO.

1. Clear Away Myths and Fears.

2. Understand the Grantseeking Cycle.

3. Set Up a Simple Office.

STEP ONE: LEARN ABOUT YOUR ORGANIZATION, COMMUNITY, AND FUNDERS.

4. Learn About Your Organization and Programs.

5. Synthesize What You've Learned So Far.

6. Learn About Your Community.

7. Learn About Funders.

STEP TWO: MATCH YOUR REQUEST TO A FUNDER.

8. Move From Lead to Prospect to Match.

STEP THREE: INVITE A FUNDER TO INVEST IN YOUR ORGANIZATION.

9. Invite a Funder to Give .

10. Guide Relationships, Meetings, and Tours.

STEP FOUR: FOLLOW UP WITH YOUR ORGANIZATION AND YOUR FUNDER.

11. Communicate After Mailing a Proposal.

12. Follow Up After a Funding Decision.

STEP FIVE: EVALUATE YOUR RESULTS, METHODS, AND OPPORTUNITIES.

13. Evaluate the Past, Strategize the Future.

14. Personalize Your Grantseeking Cycle.

15. Set Your Grantseeking Ground Rules.

EPILOGUE: GET INSPIRED ALL OVER AGAIN.

16. Grow From Efficiency to Expertise.
What do you really need to do to get grants? Get thee a system! Not just any system; this one.
Proposal writing is a science and art. The art part is writing; the science part is research, strategy, observation, and painstaking work. Demystifying Grant Seeking is about the painstaking part, but the authors skillfully render the components in manageable, sustainable portions, palatable for the busiest of non-profit professionals.
Larissa Golden Brown and John Martin Brown walk you through a grant-seeking system that works. The Browns' plan is for: the newcomer who must be led into the process; the experienced proposal writer who needs to keep track of all the office's activities; and anyone who wishes to streamline operations while improving quality and consistency.
Don't think this is just about how to get to funders. This is about how to collect information, manage it and other materials, and promote communication habits to create a winning grants office.
The authors describe the grant-seeking cycle in five parts: 1) learn - about your organization, your community and your potential funders; 2) match - your needs with the funder's interests and performance; 3) invite - the funder, through the proposal, to invest in the organization and the community; 4) follow up - on the program and the partnership; and 5) evaluate - the grant-seeking process to fine tune it before renewing the cycle.
They take the time to dispel many grant world myths, including "All you need is one well-written grant proposal" and "You need to 'know someone' to get a grant." They even point out the basic necessities for operating a grant-seeking office -- mercifully low-tech and manageable.
Quickly, though, they get to pre-writing part of the process. Proposal writers know that much time is spent learning about the organization, its programs and plans, sometimes developing programs or shaping them to enhance their appeal to funders, and collecting information and support materials to satisfy the donor and dramatize the project. The Browns' emphasis on what they could call the "discovery phase" is very well placed. Their checklist of questions for interviewing the CEO, the program director, and staff assures solid internal research. The answers to those questions become the backbone of the finished proposal.
Chapters on collecting, developing and refreshing support materials, and program, donor, and grants management files have excellent ideas for simplifying work and improving the delivery of quality of information. The authors' recommendations on managing information in the office are surprisingly simple. Cultivate their habits of keeping only what is important, and completing related tasks together (filling a "to read" file or saving leads for a morning of electronic research) to maximize efficiency. These systems definitely work. My office has already adopted their deadline cards, organizational resume, and the filing and record keeping ideas. Check the back of the book for sample forms and an application.
The section on maintaining relationships with funders may be a bit too subtle for some newcomers, so let me emphasize the importance of disciplined relationship management. This is the beginning of a long-term partnership with the donor: attend to it if you hope it will flourish. So use their "follow-up form" and funder communication ideas to guide you. It is far easier to keep a funder than to get a funder.
How about sustaining momentum in a busy office? The authors wisely recommend annual reviews of grant-seeking efforts and staff summits that prioritize projects and define staff responsibilities in proposal preparation. Never underestimate the importance of non-development staff in an organization. Their ideas, information, and support are critical for success. A little internal public relations through periodic review meetings and regular, but brief, reports to staff will foster a team atmosphere that helps get good work done for everyone.
Demystifying Grant Seeking is a very fine combination of Larissa Golden Brown's fundraising successes and Martin John Brown's writing abilities (they probably share those, too). It is a generous gift to those who work so hard on behalf of good causes. Read it and keep it. (Review by Sarah S. Brophy)