Dendrimer-Based Drug Delivery Systems: From Theory to Practice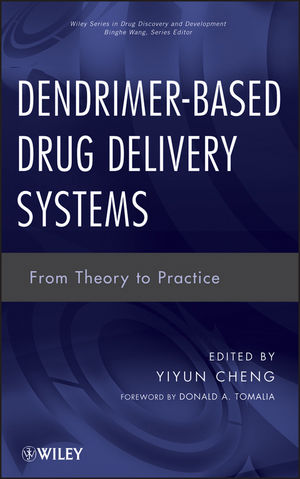 Dendrimer-Based Drug Delivery Systems: From Theory to Practice
ISBN: 978-0-470-46005-4 July 2012 534 Pages
Description
The opportunities and challenges of using dendrimers to improve drug delivery
Among pharmaceutical and biomedical researchers, the use of dendrimers in drug delivery systems has attracted increasing interest. In particular, researchers have noted that the volume of a dendrimer increases when it has a positive charge. If this property can be applied effectively, dendrimers have enormous potential in drug delivery systems, directly supplying medication to targeted human organs.
With contributions from an international team of pioneers and experts in dendrimer research, this book provides a comprehensive overview of the latest research efforts in designing and optimizing dendrimer-based drug delivery systems. The book analyzes key issues, demonstrating the critical connections that link fundamental concepts, design, synthesis, analytical methodology, and biological assessment to the practical use of dendrimers in drug delivery applications. Topics covered include:
Dendrimer history
Synthesis
Physicochemical properties
Principles of drug delivery
Applications in diverse biomedical fields
Dendrimer-Based Drug Delivery Systems reflects the authors' thorough review and analysis of the current literature as well as their own firsthand experience in the lab. Readers will not only discover the current state of the science, but also gain valuable insights into fruitful directions for future research. References at the end of each chapter serve as a gateway to the growing body of literature in the field, enabling readers to explore each individual topic in greater depth.
Pharmaceutical and biomedical researchers will find this book a unique and essential guide to the opportunities, issues, and challenges involved in fully exploiting the potential of dendrimers to improve drug delivery.
Table of contents
Foreword vii
Donald A. Tomalia
Preface ix
Acknowledgments xi
Contributors xiii
About the Editor xvii
1 Dendrimer Chemistry: Supramolecular Perspectives and Applications 1
Charles N. Moorefield, Sujith Perera, and George R. Newkome
2 Physicochemical Properties of Dendrimers and Dendrimer Complexes 55
Toyoko Imae
3 The Use of Dendrimers to Optimize the Physicochemical and Therapeutic Properties of Drugs 93
Nicole Stieger, Wilna Liebenberg, Marique E. Aucamp, and Melgardt M. de Villiers
4 Biological Properties of Phosphorus Dendrimers 139
Anne-Marie Caminade and Jean-Pierre Majoral
5 Dendrimer-Based Prodrugs: Synthesis and Biological Evaluation 157
Mohammad Najlah, Zhengyuan Zhou, and Antony D'Emanuele
6 Improving the Biocompatibility of Dendrimers in Drug Delivery 207
Yiwen Li, Libo Zhao, and Yiyun Cheng
7 Degradable Dendrimers for Drug Delivery 239
Marc Gingras and Myriam Roy
8 Design of Stimuli-Responsive Dendrimers for Biomedical Purposes 307
Chie Kojima
9 Dendrimer-Based Gene Delivery Systems: Administration Routes and In Vivo Evaluation 329
Santander-Ortega M.J., Uchegbu I.F., and Scha¨tzlein A.G.
10 Triazine Dendrimers for DNA and siRNA Delivery: Progress, Challenges, and Opportunities 355
Meredith A. Mintzer, Olivia M. Merkel, Thomas Kissel, and Eric E. Simanek
11 Dendrimer-Coated Carbohydrate Residues as Drug Delivery Trojan Horses in Glycoscience 407
Yoann M. Chabre and Rene´ Roy
12 Nuclear Magnetic Resonance Techniques in the Analysis of Pamam Dendrimer-Based Drug Delivery Systems 439
Xueyan Feng, Kun Yang, Jingjing Hu, Tongwen Xu, and Yiyun Cheng
13 Dendrimer-Based Medical Nanodevices for Magnetic Resonance Imaging Applications 463
Hongdong Cai, Mingwu Shen, and Xiangyang Shi
14 Dendrimer-Related Nanoparticle System for Computed Tomography Imaging 479
Chen Peng and Xiangyang Shi
Index 501
Reviews
"This book should be particularly valuable for everyone working in the dendrimer area, but also for researchers in drug delivery and pharmaceutical sciences more generally. To my mind, it is clearly a book to have on your shelf!."  (ChemMedChem, 1 March 2013)