Dental Reception and Practice Management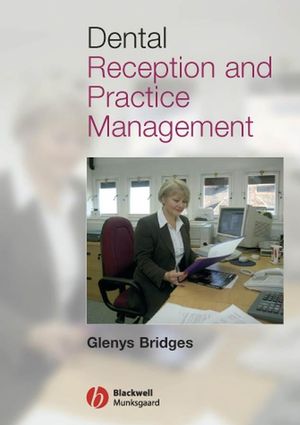 Dental Reception and Practice Management
ISBN: 978-1-405-17212-7 April 2008 Wiley-Blackwell 232 Pages
Description
Dental Reception and Practice Management is the dental office administrator's essential companion to all aspects of reception work and practice management duties. The book covers vital interpersonal skills and the important aspects of business management and marketing relevant to dentistry. In addition it explains the development of dental care and the range of available treatments, enhancing the reader's understanding and awareness of the necessary clinical aspects of dentistry.





Dental reception and Practice Management covers a range of key skills and knowledge within three sections: 'Overview of Dental Care Administration', 'Front of House Skills and Planning' and 'Managing Dental Services'; bringing together practical guidance on business management and reception skills with accessible and relevant information on the dental professions.
Section 1: Overview of Dental Care Administration.
1 Introduction.
2 Understanding the Culture of Dental Care.
3 Who's Who in Dentistry.
Section 2 Front of House Skills.
1 Front-of-House Communication Skills.
2 Understanding Patients' Rights.
3 Workplace Safety.
4 Understanding Treatment Options.
5 Administrative Skills.
6 Payment Plans.
7 Computers in Dentistry.
8.Understanding Dental Terminology.
Section 3: Planning and Managing Dental Services.
1 Managing People.
2 Planning and Managing Systems.
3 Conclusion
"The book provides a vast amount of information in a lot of detail on aspects of personal as well as work life. Although not a crucial read for British undergraduates, it would be useful for any dentist seeking further knowledge on setting up a practice, or who has an interest in management." (British Dental Journal, 10 December 2010)


Provides valuable information on dental reception and practice management in one book.

Offers perspectives from the both the dental and service industries

Is written by an authority on training in these disciplines

Includes a helpful glossary of terms

Is illustrated