Derivatives Demystified: Using Structured Financial Products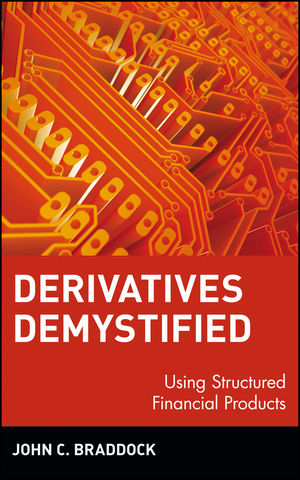 Derivatives Demystified: Using Structured Financial Products
ISBN: 978-0-471-14633-9
Mar 1997
320 pages
Description
State-of-the-art instruction for understanding and using structured financial products

For financial professionals, the ability to understand the basic design and uses of structured financial products is critical for modern investing, as well as client retention. Derivatives Demystified: Using Structured Financial Products contains up-to-date and in-depth information on a complete range of derivative-based financial instruments.

Critical Praise for Derivatives Demystified

"Derivative financial products are an increasing part of global finance. Braddock narrates us through this mystical world in a way non-professionals can understand."—Ambassador James R. Jones, Former Chairman and CEO of the American Stock Exchange

"John Braddock has accomplished the impossible. Derivatives Demystified breaks down hypercomplex subject matter into manageable units and then explains them using easily understood prose. This is a must read for everyone in the securities industry."—Professor Jeffrey J. Hass, Professor of Securities Law and Corporate Finance, New York Law School

"The word 'derivatives' is a hot-button topic in Washington. Derivatives Demystified is an eminently readable book and goes a long way toward correcting many of the misconceptions about this fascinating new area of global finance."—Dr. Douglas E. Schoen, Political Strategist, Penn & Schoen

"Braddock's 'inside look' at the activities of the financial wizards who structure these instruments is, by itself, worth the price of admission."—Edward H. Fleischman, Consultant, Linklaters & Paines, Former Commissioner of the Securities and Exchange Commission

"A clear and indispensable guide for the serious investor."—Michael Metz, Chief Investment Strategist, Oppenheimer & Co., Inc., New York

Structured products are financial instruments that are engineered to meet specific investment objectives. In this comprehensive new book, financial engineering expert John Braddock provides both technical and non-technical readers with valuable insights into some of today's most innovative financial instruments.

Essential tools used by many financial professionals, these non-traditional securities—whose values are linked to, or "derived" from, such underlying assets as stocks, bonds, currencies, and commodities—are increasingly available to investors at every level. Structured products can facilitate the movement of risk exposure into and out of investment portfolios with greater efficiency than many conventional securities. And due to their sensitivity to price fluctuations, they often provide investors with early insights into the behavior of the assets and markets on which they are based.

Beginning with a thorough and timely overview of the main types of structured products in use today—how and why they are used, investment risks, and customer suitability requirements—Derivatives Demystified: Using Structured Financial Products also offers an extensive examination of the development and marketing process and the responsibilities of officers and directors overseeing derivative transactions. With up-to-date and authoritative explanations, it is packed with essential information on:
Warrants and index linked notes
Convertible securities and equity linked notes
Exotic and custom-made options
Monetization and hedging strategies for restricted or low cost basis stock
A key element of Derivatives Demystified: Using Structured Financial Products is the special Resource Guide. This unique section provides valuable information on many important aspects of financial engineering, including the investment banking, marketing, and underwriting activities that relate to the creation of structured products. It includes sample product development checklists, marketing materials, management presentations, cost studies, and a comprehensive glossary.
An indispensable tool for grasping the complexities of derivative securities, and their use as the building blocks for structured products, this clear and concise guide provides an invaluable addition to any financial library.
Partial table of contents:

INTRODUCING STRUCTURED FINANCIAL PRODUCTS: DEFINITION, RESPONSIBILITY, PRODUCT DEVELOPMENT AND MARKETING, RISK MANAGEMENT.

Summary of Structured Products.

Responsibilities of Officers and Directors Overseeing Structured Derivative Product Transactions.

Overview of Pricing, Valuing, Trading, and Hedging Structured Products.

THE SPECIFICS OF STRUCTURED FINANCIAL PRODUCTS.

Warrants.

Convertible Securities.

Equity-Linked Notes.

Exotic Options and Warrants.

OTC Private Placements for Institutional and Individual Clients.

TRADING STRATEGIES AND CAPITAL-RAISING APPROACHES.

Monetization and Hedging Strategies for Restricted Stock and Other Concentrated Equity Positions.

Structured Products for Corporations.

RESOURCE GUIDE FOR USERS OF STRUCTURED FINANCIAL PRODUCTS.

Glossary.

Index.