Derrida: Deconstruction from Phenomenology to Ethics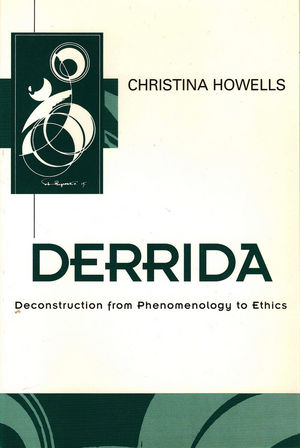 Derrida: Deconstruction from Phenomenology to Ethics
ISBN: 978-0-745-66727-0 April 2013 Polity 192 Pages
Download Product Flyer
Download Product Flyer
Download Product Flyer is to download PDF in new tab. This is a dummy description. Download Product Flyer is to download PDF in new tab. This is a dummy description. Download Product Flyer is to download PDF in new tab. This is a dummy description. Download Product Flyer is to download PDF in new tab. This is a dummy description.
Description
This book is an unusually readable and lucid account of the development of Derrida's work, from his early writings on phenomenology and structuralism to his most recent interventions in debates on psychoanalysis, ethics and politics.
Christina Howells gives a clear explanation of many of the key terms of deconstruction - including différance, trace, supplement and logocentrism - and shows how they function in Derrida's writing. She explores his critique of the notion of self-presence through his engagement with Husserl, and his critique of humanist conceptions of the subject through an account of his ambivalent and evolving relationship to the philosophy of Sartre. The question of the relationship between philosophy and literature is examined through an analysis of the texts of the 1970s, and in particular Glas, where Derrida confronts Hegel's totalizing dialectics with the fragmentary and iconoclastic writings of Jean Genet.
The author addresses directly the vexed questions of the extreme difficulty of Derrida's own writing and of the passionate hostility it arouses in philosophers as diverse as Searle and Habermas. She argues that deconstruction is a vital stimulus to vigilance in both the ethical and political spheres, contributing significantly to debate on issues such as democracy, the legacy of Marxism, responsibility, and the relationship between law and justice.
Comprehensive, cogently argued and up to date, this book will be an invaluable text for students and scholars alike.
Table of contents
Acknowledgements.
Abbreviations.
Apologia.
1. Phenomenology.
2. Structuralism.
3. Language: Speech and Writing.
4. Deconstructing the Text: Literature and Philosophy.
5. Deconstruction and Psychoanalysis.
6. The Ethics and Politics of Deconstruction and the Deconstruction of Ethics and Politics.
Notes.
Bibliography.
Index.
Reviews
"Christina Howells has written a sharply focused study which will delight equally those who have not yet started reading Derrida and those who cannot stop. Its concise and elegant expositions of texts ranging from his very early to his very recent ones will disarm all but the most dogmatic of Derridaphobes, showing them gently but firmly that their resistance arises from their own misconstruction of how deconstruction works. All Derridaphiles will wish that they themselves had written this just and responsible book."
John Llewelyn, lately Reader in Philosophy at the University of Edinburgh and Visiting Professor at the University of Memphis and Loyola University of Chicago
"As we have come to expect from Christina Howells' exemplary earlier work on Sartre, this book on Derrida is comprehensively researched, clearly written and strongly argued. It is a valuable and much-needed addition to the literature that will be essential reading for anybody interested in Derrida." Simon Critchley, University of Essex

"interesting – her claims around the idea that deconstructive readings subject philosophical texts "to the same kind of analysis as literary ones" are particularly thought-provoking" Simon Glendinning, Times Literary Supplement
Features
* An up-to-date, wide-ranging and outstanding introduction to Derrida's work.
* A clear and lucid assessment of Derrida's writings which offers accessible explanations of his more difficult theories and terms (eg grammatology, deconstruction, differance, trace, etc).
* Unlike other introductions, the book includes coverage of Derrida's contribution to contemporary debates and issues such as psychoanalysis, ethics and politics.