Derrida Now: Current Perspectives in Derrida Studies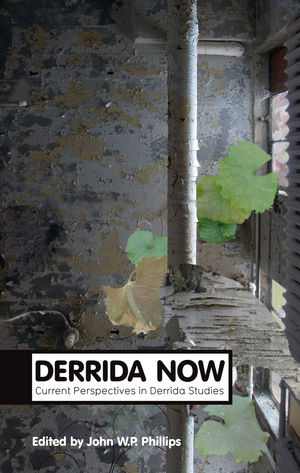 Derrida Now: Current Perspectives in Derrida Studies
ISBN: 978-0-745-65574-1 March 2016 Polity 200 Pages
Download Product Flyer
Download Product Flyer
Download Product Flyer is to download PDF in new tab. This is a dummy description. Download Product Flyer is to download PDF in new tab. This is a dummy description. Download Product Flyer is to download PDF in new tab. This is a dummy description. Download Product Flyer is to download PDF in new tab. This is a dummy description.
Description
For more than 30 years and until his death in 2004, Jacques Derrida remained one of the most influential contemporary philosophers. It may be difficult to evaluate what forms his legacy will take in the future but Derrida Now provides some provocative suggestions. Derrida's often-controversial early reception was based on readings of his complex works, published in journals and collected in books. More recently attention has tended to focus on his later work, which grew out of the seminars that he presented each year in France and the US. The full texts of these seminars are now the subject of a major publication project, to be produced over the next ten years.

Derrida Now presents contemporary articles based on or around the study of Derrida. It provides a critical introduction to Derrida's complex and controversial thought, offers careful analysis of some of his most important concepts, and includes essays that address the major strands of his thought. Derrida's influence reached not only into philosophy but also into other fields concerned with literature, politics, visual art, law, ecology, psychoanalysis, gender and sexuality and this book will appeal to readers in all these disciplines. Contributors include Peggy Kamuf, Geoff Bennington, Nicholas Royle, Roy Sellars, Graham Allen and Irving Goh.
Table of contents
Contents
Editor's Introduction
John W.P. Phillips
1. Transcendental Difference and the Auto-Relation: Critical Overview
John W.P. Phillips
2. Derrida's Dignity
Geoffrey Bennington
3. Stepping Out with Freud and Derrida: On the Royal Road of Interpretation
Roy Sellars
4. The Transparent University: Kant, Derrida and a New University Law
Graham Allen
5. Does Deconstruction Imply Vegetarianism?
Martin McQuillan
6. After Derrida's Foi et savoir: From Rejection to the (Animal-)Reject for the "Post-Secular"
Irving Goh
7. Composition Displacement
Peggy Kamuf
8. Jacques Derrida and the Future of the Novel
Nicholas Royle
9. Derrida, Code Enforcement, and the Question of Justice
Hugh J. Silverman
Notes
Reviews
"This book gathers the current thinking and perspectives on the work of Jacques Derrida and his treatments on a variety of contemporary issues, including animals, justice and death. Original and rigorous, and yet accessible, these essays also reveal the continued relevance of Derrida's work in helping us think our present intellectual, cultural and political situations in our day-to-day lives."
Nicole Anderson, Macquarie University, Sydney

"This volume brings together some of the most knowledgeable, sensitive and attentive readers of Derrida to address a range of issues spanning the apparent divide between "early" and "late" Derrida. Bennington, for instance, is quasi-exemplary in his approach to Derrida's dignity. Royle re-opens and re-illuminates the challenging as well as loving relationship between literature and philosophy. Other questions addressed include the pressing matter of "the animal" throughout Derrida's work."
Judith Still, University of Nottingham
"This volume brings together some of the leading lights in what can now be called the field of Derrida studies. Phillips does a fine job editing and introducing this volume."
Choice
Features
A critical introduction to Derrida's complex and controversial thought.
Offers careful, insightful analysis of some of Derrida's most important concepts.
Includes contributions from key thinkers in the field.
The book will appeal to students and scholars of literary theory and continental philosophy.