Design City Toronto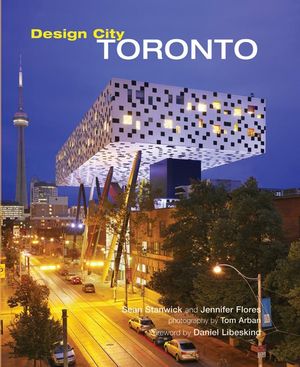 Design City Toronto
ISBN: 978-0-470-03316-6 March 2007 272 Pages
Description
At a time when modern architecture has become a means for cities to up their game and raise their cultural profile on the world stage, Toronto is coming into its own. Fully entrenched in a design renaissance that is dramatically changing the face and space of the city, Toronto is now a welcome playground for celebrated local talent and international star architects. While some cities can be immediately defined by a specific style, Toronto is distinguished instead by a fusion of contemporary architecture, heritage preservation and sustainable urban design. A true mosaic of architecture and culture, Toronto is a city learning to recognise and celebrate its diversity – it is a city set to rediscover itself.

Design City: Toronto showcases over thirty exemplary contemporary interior and architectural projects, both complete and underway. These range from hip restaurants and bars by Toronto-based practices to major institutional buildings completed by the likes of Will Alsop, Behnisch, Behnisch & Partners, Foster and Partners, Frank Gehry, Kuwabara Payne McKenna Blumberg and Daniel Libeskind. Written in an engaging and lively manner, the book is beautifully illustrated with new photography by Tom Arban. It also provides a neighbourhood overview and biographies of featured designers. It should appeal as much to design savvy individuals as local and foreign archi-tourists who are as interested in discovering – or rediscovering – the dynamic evolution of this exciting city.
Preface.
Foreword by Daniel Libeskind.
Introduction.
Discover Explore.
Art Gallery of Ontario.
Bata Shoe Museum.
Evergreen Commons at the Brick Works.
Toronto International Film Festival, Festival Centre and Tower.
Four Seasons Centre for the Performing Arts.
Gardiner Museum of Ceramic Art.
Young Centre for Performing Arts.
Royal Ontario Museum.
Toronto Waterfront Redevelopment.
Eat Enjoy.
Blowfish Restaurant + Sake Bar.
Boiler House Restaurant.
II Fornello Restaurant.
Izakaya.
Jamie Kennedy Restaurant and Wine Bar.
Ultra Supper Club.
Relax Recharge.
Bloorview Kids Rehab.
BMW Toronto.
C Lounge.
The Drake Hotel.
Gladstone Hotel.
Lux.
Convent for the Sisterhood of St John the Divine.
Learn Study.
Bahen Centre for Information Technology, University of Toronto.
Canada's National Ballet School.
Canadian National Institute for the Blind.
Early Learning Centre, University of Toronto.
Graduate House, University of Toronto.
Centennial HP Science and Technology Centre, Centennial College.
Leslie L Dan Pharmacy Building.
Sharp Centre for Design, Ontario College of Art & Design.
TELUS Centre for Performance and Learning, Royal Conservatory of Music
Schulich School of business, York University.
Terrence Donnelly Centre for Cellular and Biomolecular Research.
Toronto by Neighborhood.
Maps.
Architects and Designers.
Bibliography.
Acknowledgements.
Credits.