Design Engineering of Biomaterials for Medical Devices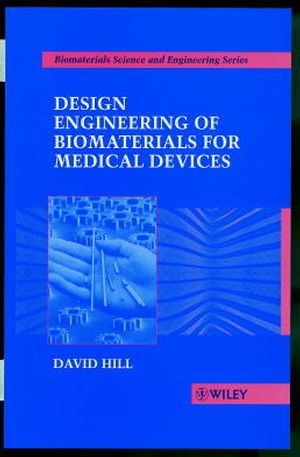 Design Engineering of Biomaterials for Medical Devices
ISBN: 978-0-471-96708-8
Sep 1998
480 pages
Description
Written by an exceptionally experienced author in the area of medical equipment product design, this text presents a comprehensive overview of such sound principles and state-of-the-art techniques covering a whole host of material types, biocompatability, the design process and future trends within this exciting field. An all-in-one reference text, concise and easy-to-read. Wide audience appeal, from industry professionals to students of design.
MATERIALS.

Material Available.

Material Selection Processes.

Ferrous Metals.

Non-Ferrous Metals.

Polymers.

Poly(vinyl chloride)(PVC).

Other Materials.

Adhesives.

Corrosion and Degradation.

Biocompatability.

Filters and Membranes.

Fibre Optics.

Battery Selection.

DESIGN.

Training and Education for Design.

Design Process and Factors.

Microengineering.

Prototyping.

Sterilisation.

Standards.

Specifications.

Packaging.

Communication in Design.

Product Liability.

Patents and Registration.

Quality Assurance.

Manufacturing Methods.

FUTURE TRENDS.

Future Trends.

Environmental Issues.

INFORMATION.

Sourcing.

Glossary.

Index.
"This is a handbook of commercially available materials which are commonly used for medical devices" (Aslib Book Guide, Vol. 64, No. 1, January 1999)